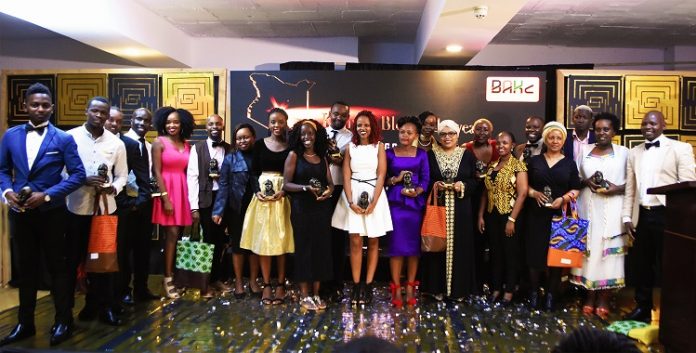 In an award ceremony held at the Crowne Plaza women bloggers impressed when they walked away with awards in 8 categories during the BAKE awards that went down over the weekend. This was a welcome break from the past where majority of the awards went to male bloggers. I have to say that it is a sign of encouragement that women are starting to take blogging seriously.
The blogs by women that were awarded include; potentash.com, wandianjoya.com, mummytales.com, healthkenya.com, lifeinmombasa.com, kaluhiskitchen.com, curveswithstyle.com and Safari254.com.
Over 400 guests were at hand to witness award ceremony where Magunga.com was voted as the best blog in the country. Other first time winners included Owaahh.com who after many years finally won, biznews.co.ke, healthkenya.co.ke and potentash.com who won in best topical, business, health and lifestyle categories respectively. Veterans techweez.com, niaje.com and mutuamatheka.co.ke bagged technology, entertainment and photography blogs awards respectively.
According to the BAKE Chairman Kennedy Kachwanya, part of this year's BAKE agenda is to encourage more youth to embrace blogging as a means of creating employment. He continued to say that blogging has become serious business and people are doing it full time and earning good money while at it.
This year's awards were sponsored by among others Safaricom, Bill and Melinda Gates Foundation, Ford Motors, ShowMax, Xpose, EatOut, Vivienne Taa and Kenya Human Rights Commission (KHRC).
You can check out the full list of winners here.