The mere mention of Olkaria brings back memories of the acrid smell of sulphur fumes that stubbornly refuse to be blurred from my memory ever since that fateful Geography trip to Hells Gate back in high school. Perhaps that's the real reason why I kept coming up with lame excuses and pushing my trip to the KenGen Olkaria Geothermal Spa; considering the fact that I have been staying just a stone's (make that a Javelin's) throw-away from the place. The smell of rotten eggs mixed with I don't know what is something you hardly forget nor look forward to. I however decided to shelf my convictions and finally took my lazy ass to the spa; and boy, was I glad!
The KenGen Olkaria Geothermal Spa is located inside Hells Gate National Park which is managed by the Kenya Wildlife Service (KWS). Hells Gate is very massive and has several entrances so you have to be very particular the gate you'll use.
If you're using personal means, you'll have to drive towards Oserian Town from Naivasha. Just before you reach Oserian, there's a road that leads directly to the KenGen Power Plant; you'll see KWS offices at the gate. Not to worry if you plan on going via PSV. Board the Oserian Matatus from town (fare is roughly Ksh. 80-100). Tell the conductor to drop you off at the Ol Karia stage. Pick a motorbike to the KWS entrance (This should cost you Ksh. 50-100) or more depending on your bargaining skills.
Now that you are at the gate; you'll need to pay the standard KWS park entry fees. For Kenyan Citizens you'll have to part with Ksh. 350 for adults and 250 for children. (The KWS park entry fees vary depending on the location of a park. Find the KWS 2016 fees guideline HERE).
Hells Gate National Park fees
Kenyan adults – Ksh. 350
Kenyan children – Ksh. 250
Resident foreigners adults – Ksh. 700
Resident foreigners children – Ksh. 350
Non-resident foreigners adults – USD 30
Non-resident foreigners children – USD 20
After you've paid your park entry fees, you're free to roam about the park (with the help of a guide of course! Pro-tip, if you need a guide, ask for one Mr. Kang'ethe, an old Mzee who is very interesting. He'll crack you up with his stories. He's worked here for ages so he knows every nook and cranny) . The Spa is located about 250 metres from the gate.
Other than the huge billows of steam emanating from the KenGen substation; the land is undisturbed. Come to think of it, most of Naivasha seems to be engulfed in time-zone of its own; trapped in the novelty of the Happy Valley settlers. It was around 2 pm when I got to the park and I could see several zebras ,antelopes and some warthogs grazing lazily by the roadside. Pretty Cool, IKR?
The Spa is owned by Kengen and the Spa charges are different from those of KWS and below are the rates.
Ol Karia Geothermal Spa fees
Kenyan adults – Ksh. 400
Kenyan children – Ksh. 100
KenGen staff – Ksh. 200
Group for students (under 18) – Ksh. 100
Grounds hiring – Ksh. 40,000
Resident foreigners adults – Ksh. 1,000
Resident foreigners children – Ksh. 500
Non-resident foreigners adults – Ksh. 1,800
Non-resident foreigners children – Ksh. 850
Towel – Ksh. 200
With such low rates; I expected the place to be packed. This was not the case, must have been the fact that it was a Monday afternoon. I only found 2 couples and the pool attendants gracing the waters. On chatting up with one of the pool guys later on, I was informed that the place is very full on weekends; most of the clientele are either foreigners, KenGen Staff and local tourists from Nairobi; rarely the area locals.
The first thing that catches your attention as you walk towards the poolside is the breath-taking view of the expansive main pool with the hills and towers of steam that seems to fuse with the clouds in the background. The adult pool is massive, and save for the tiny rock island at the centre, you'd think it was a mini-lake. If you have little ones with you; don't worry ; there's a baby pool and playground equipment to cater for them.
All the pools are made entirely out of steel trowelled concrete (the water here has natural minerals and cannot allow for the use of ceramic tiles). There are 4 steps all round to allow the people to sit down and bask in the warm water. The deepest part of the pool is only 1.5 metres deep.Yes, I see all ye deep-end phobic folks breathing a sigh of relief.
The water feels heavenly on the skin. It is almost as if you're floating in an endless bathtub is some tacked away haven, staring at the hills and the clear skies. Doctors should prescribe this to peeps suffering from stress related illness. It's impossible not to forget your troubles once you immerse yourself in these waters.
For those who were not aware; the Ol Karia Spa is the largest natural Spa in the continent; making KenGen the first ever company to optimize the use of geothermal resources by creating an alternative income generation project other than power generation. The water in the spa is all natual; there are no artificial additives or treatments done to it. Wet steam (known as Brine) is brought in by pipes and is allowed to cool before being released into the pool. There are technicians who constantly monitor the water temperature to ensure no one gets scalded 😀
The water is rich in minerals with sulphur and silica having the highest percentage. (That's why the water seems cloudy.whitish) when you look at it from far. Ever tasted that water you use to boil an egg afterwards? Yes? That's how the water in the pool tastes 🙂 ) Funny enough, the place didn't smell horrendous as I had imagined it would yet one power plant (Ol Karia one) is right next door.
There are many health and skin benefits that are attributed to bathing in a natural spa; the spa management can list quite a couple. All I know is that my skin felt so soft after my 2 hour long swim and my mind was totally relaxed. Next time you're in Naivasha time, make sure you don't leave before checking out this place. If not for the health reasons; do it for the views and of course the adventure.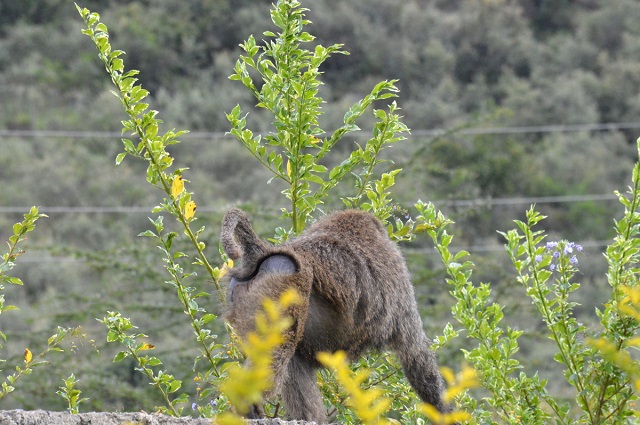 As you bathe, there are melodies of birds chirping from the trees nearby. Monkeys and baboons are also common visitors. You'll see them occasionally strolling in the lawns as they head out to do whatever it is monkeys do
Travel Notes
The Spa operations have not yet been fully completed and handed over. So the restaurant does not yet serve food during weekdays; only weekends. You are allowed to carry your own food/picnic basket.
2. There's a conference facility here as well (for those who want to hold meetings here for some weird reason). KenGen plans to put up cottages and accommodation spaces in future so I guess this will make sense come that time.
3. The pool closes at 6PM.
4. The washrooms and changing rooms are so clean and nice. Did I mention how warm and helpful the watchmen are?
5. Naivasha weather is very Bipolar. Because of the lake; sporadic rains are common especially in the afternoon coz of the rain. If you're planning to take children to the spa, better do so between 10 and 2 pm. Don't let this mess your plans though. Rains here barely 15 minutes and the sun will be out again in no time
6. Make sure you carry your Identification documents to avoid inconveniences.
7. Lastly, since you're paying for both the park and the spa; obtain full value for your money by exploring the park first then finishing off with a dip at the Spa.