There has been a lot of concern when it was announced that Barclays Bank Plc would be exiting from Africa. This is because many people thought that this meant that all the Barclays bank units in the different countries in Africa would be closed down. However, the truth of the matter is that, Barclays Bank PLC had already sold off its Africa operations to Barclays Africa Group Ltd in 2013 and as such was not in control of day to day operations. The deal included Barclays bank units in countries like South Africa, Botswana, Ghana, Kenya, Mauritius, Seychelles, Tanzania, Uganda and Zambia. However, the Barclays bank in Egypt and Zimbabwe remained under the control of Barclays PLC though the expectation is that they will be sold to BAGL due to the divestment. Barclays Africa Group Limited (BAGL) is an independent entity with its own board of directors and a separate listing on the Johannesburg Stock Exchange.
Barclays Africa Group Ltd was formed when Absa a South African bank acquired the African operations of Barclays PLC in a share deal worth 1.3 billion pounds. This was after Barclays Bank PLC acquired a controlling stake in Absa 55.5 per cent back in 2005 and as such the share deal in 2013 increased their stake in the South African bank to 62.3 per cent. Under the deal Absa was renamed Barclays Africa Group and acquired 14.4 million customers across 10 countries in a fast growing continent. However,  the Absa brand was retained in South Africa for retail banking. Absa's CEO Maria Ramos was named the head of Barclays Africa a position she holds to date.
Barclays Bank PLC has decided to divest from their African business and they will do so by reducing their shareholding in Barclays Africa Group Ltd. The aim here is to move from being a majority shareholder to a minority shareholder and thus does not mean a complete exit from the business. Due to the fact that Barclays Africa Group is the one which has been handling operations on the African continent a change in shareholding will not in any affect the day to day running of the business. This basically means that the units in the various countries do not face closure anytime soon and as the MD of Barclays Bank Kenya stated during their 100 year celebrations. They been have in the country for 100 years and are committed to being around for a 100 more years.
Barclays Africa Group released their results for the financial year 2015 yesterday and the group is clearly in a solid financial position with earning having increased to R14.3 billion on the back of increased income while costs remained well managed with an increase of only 5%. Maria Ramos, CEO Barclays Africa Group Ltd had this to say as she announced the results "We delivered solid results, demonstrating that our strategy is working. Our ambition to be Africa's leading bank remains unchanged. We are a strong, well-capitalised and independently funded business that is uniquely positioned to achieve our goals across the continent." She also spoke development projects that the bank is set to undertake "We are proud to announce today that we will spend R1.4 billion over the next three years as we place increased emphasis on helping to address some of the biggest challenges facing our continent: joblessness, poverty, rising inequality and exclusion from access to education and financial services," she went on to say. "As Africa prospers, so will we."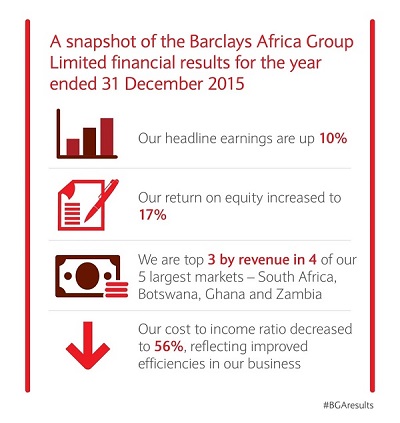 Clearly this is not a bank that is planning to go anywhere anytime soon let alone close shop. My take is that exit of Barclays Bank PLC from being a majority shareholder might be a blessing in disguise as it will reduce the lag in decision making by the bank. That is the Nairobi office having to report to the Johannesburg office which then reports to the London office and vise versa before a decision is made.