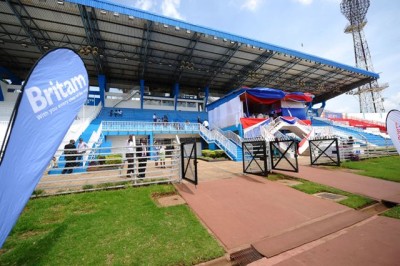 British-American Investment Company Limited, (Britam) has been granted rights to brand the Nyayo National stadium for two years, in a KShs 100 million deal with Sports Kenya. The branding will extend from the main stadium, the indoor arena, handball and volleyball courts, basketball court, VIP rooms and the stadium's aquatic area.
In addition to the branding, Britam will also be advertising its products at services with the premises and getting sales and marketing opportunities during local and international games and events at the stadium. However, Nyayo Stadium will keep its name.
Speaking at the unveiling ceremony, Sports Kenya acting Director General said, Gabriel Komora emphasized that Corporate Kenya has a critical role to play in the development of sports in the country as these branding investments will help in the development of sport infrastructure in the country.
The 32 year old stadium is currently the second branded stadium in the country with Safaricom Stadium, Kasarani taking the lead.
Britam acquired the branding rights through a competitive process.