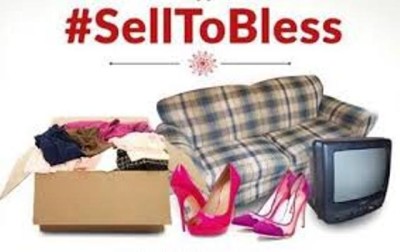 Every year, as the holidays approach there are numerous drives to make donations to children's homes. It could be amongst your friend, at your work place or even school.
In our zeal to do a good deed; we Kenyans go back to our houses and pick up the things we no longer have use for, and label them as donation worthy. But you will realise, almost everyone repeatedly donates old clothes and accessories every time there is a drive to support the children homes. What we do not pause to think about is, clothes aren't all one needs to survive so why are we only donating just old clothes and accessories we have out grown?
Someone has finally asked that question and come up with a very good solution; the OLX Sell to Bless campaign.
The idea here is to put up your unused goods on OLX, sell them then use the proceeds to buy dry food stuff from Tuskys supermarket and donate them to the children's home. Alternatively, if you have no idea what to buy with the proceeds you have amassed; just buy vouchers from Tuskys Supermarkets; which will be used as collection points for the Sell to Bless campaign.
I realise that this is a bit different from the old way of donating and gifting that we are accustomed to; choosing what children's home to bless and just walking in there with your donation. Well, there is a solution.
Since the Sell to Bless campaign is enjoying the support of various media personalities from Dj Soxxy to Dj Krowbar to Kambua to Size 8 to DK kwenye beat to Abel Mutua to Willis Raburu and a host of others- you can nominate what children's home you would like to receive your donations via live TV shows on Sunday mornings.
The Sell to Bless campaign will run for three weeks, from 16th March through 6th April 2015. The children will not only receive donations, thanks to your sell of goods on OLX, they will also be entertained by the various personalities taking part in this campaign. Sounds good, does it not? So why don't you go on OLX, sell a few things you no longer have a use for and donate the proceeds? For more info check out selltobless.org.