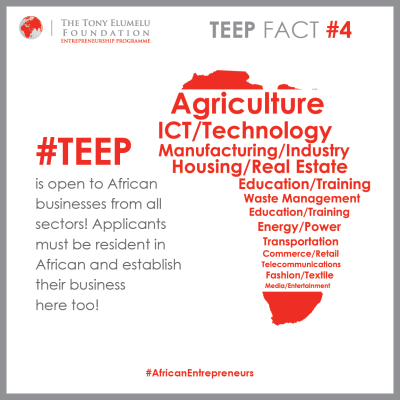 Applications are now open to the Tony Elumelu Entrepreneurship Programme (TEEP). The Entrepreneurship Programme was launched in December last year and it is a multi-year programme of training, funding, and mentoring that is designed to empower the up and coming African entrepreneurs.
1,000 African entrepreneurs will be chosen to be a part of the TEEP program every year for 10 years which means that 10,000 people will take part in the program in total.
(Read: The Tony Elumelu Foundation $100m Entrepreneurship Programme Launched)
Application period
January 1st 2015 to March 1st 2015.
Eligibility Criteria
Applicants must be aged 18 years and above and operating Startup businesses operating in Africa.
Applicants must have the legal right to work in the African country where the business is located.
Applicants must be legal residents of any one of the 54 African countries.
All businesses must be Business Ideas or an early stage company that is no more than 3 years old.
Applicants can only submit one business and their business ideas must be for profit.
Selection Criteria
Feasibility: content of the business idea. A good business model that has clear and compelling mission to grow a sustainable, commercially viable business and is effectively communicated (25 points);
Market Potential: knowledge and understanding of the market, customers and competitors for their idea/business (20 points);
Financial Model: understanding of the basic financial requirements of running a business, costs and revenues. (20 points);
Scalability: Demonstrates potential for replication and growth of their product or service to create jobs and wealth (10 points);
Leadership Potential and Entrepreneurial Skills: Applicant has demonstrated leadership potential, capable of attracting people, customers and resources. Also exhibits strong passion and commitment for the business (25 points).
Selection Committee
Ory Okolloh, Director of Investments, Omidyar Network's Government Transparency Initiative in Africa
Amadou Hott, CEO, Senegal's Sovereign Wealth Fund
Ayodeji Adewunmi, CEO and Co-Founder, Jobberman
Dr Vera Songwe, Country Director, World Bank Group for Senegal, Cape Verde, Gambia, Guinea-Bissau and Mauritania
Opunimi Akinkugbe, CEO, Bestman Games Ltd
Dr Ndubuisi Ekekwe, Founder, First Atlantic Semi-Conductors & Microelectronics
Sam Nwanze, Chief Investment Officer, Heirs Holdings
Monica Musonda, CEO, Java Food in Zambia
Angelle Kwemo, Managing Director & CEO, Rimsom Strategies
Mariéme Jamme, CEO, Spotone Global Solutions
Dr Wiebe Boer, CEO, The Tony Elumelu Foundation
The Entrepreneurship Programme
1. The Programme cycle will be from April to December and participants will be required to complete the Startup Enterprise Toolkit which includes:
Submission of regular narrative progress reports
Participation in a Boot Camp and the Elumelu Entrepreneurship Forum in Lagos, Nigeria
Development of a comprehensive business plan.
2, Participants who have completed all the tasks will receive $5,000 seed capital funding
3. Participants will also qualify for a returnable capital investment of $5,000 if their business plans will have progressed sufficiently.
Apply to the Entrepreneurship Programme HERE. Read the full terms and conditions HERE.