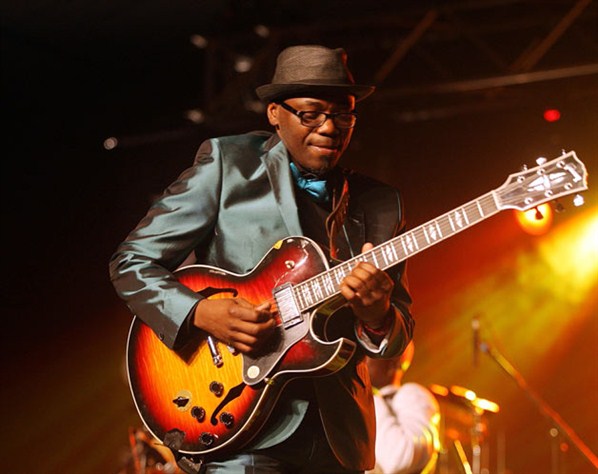 Jazz artist Jimmy Dludlu will be the main act at the second Safaricom Jazz Concert that will be held on Friday 5th December at the Safaricom Kasarani Indoor Arena.
Jimmy Dludlu started out in music at age 13 by teaching himself how to play his cousin's guitar. He first performed at weddings and functions with his cousin. His career took off in the 1980's, when he worked with various southern African bands including Impandze from Swaziland, featuring Jamaican singer Trevor Hall, Kalahari and Satari from Botswana, as well as Anansi. He has worked alongside African greats such as Hugh Masekela, Miriam Makeba and Congolese singer Papa Wemba. He perfected his craft at the University of Cape Town where he studied jazz for three years. He has released 6 albums namely: Echoes from the Past (1997), Essence of Rhythm (1999), Afrocentric (2002), Corners of my Soul (2006), Portrait (2007), Sound And Vision (2008) and Tonota (2011).
Proceeds from the Friday event will go towards the support Korogocho based Ghetto Classics Music program, which uses music to instill life skills in youth from under privileged backgrounds. Before the concert, Jimmy Dludlu will conduct a master class on playing techniques for the jazz guitar for Kenyan Jazz artists and students from the Ghetto Classics Music program.
The Safaricom Jazz series hosts monthly events called the Safaricom Jazz Concerts as it progresses to a larger annual event which is dubbed the Safaricom International Jazz Festival. The first Jazz Concert was held in September and featured Nigerian jazz musician Kunle Ayo.
The next jazz festival is slated for February 2015. The inaugural one, earlier this year, featured Cameroonian Richard Bona (read our review).
More details
What: Safaricom Jazz Concert with Jimmy Dludlu
Where: Safaricom Kasarani Indoor Arena
Time: Doors open at 6.30pm, show starts at 7.30pm.
Tickets: Tickets are Ksh. 1,000 in advance and Ksh. 1,500 at the gate. Dial 1511 to get advance tickets via M-ticketing. Advance tickets available at Michael Joseph Centre and the following Safaricom shops:
Galleria
I&M
Village Market
Nakumatt Mega
Junction
TRM
Sarit Centre
Here is Jimmy Dludlu performing at the Calabar International Jazz Festival 2013