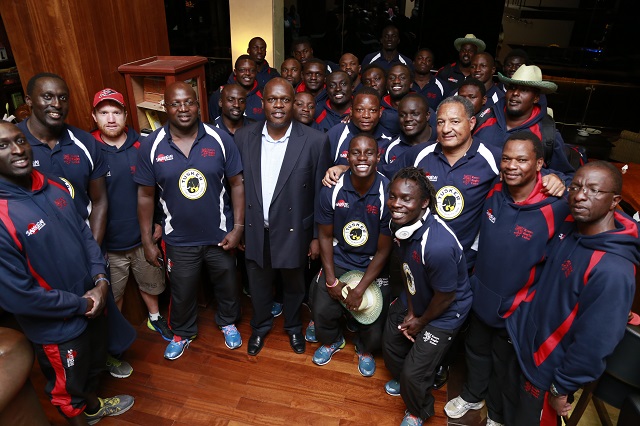 Tusker Simba XV's side jetted back into the country from Madagascar to a homecoming dinner at the Ole Sereni hotel hosted by KBL, Managing Director Joe Muganda .
The team put up a great fight but their World Cup ambitions were quashed after losing to Zimbabwe 28-10. The team lead by skipper, Wilson K'opondo, was able to hold off Namibia to a 29-22 score and Madagascar 39 – 0 before their meeting with Zimbabwe.
"It was quite the challenge, but we too proved to be quite tough, especially against the Namibians and Madagascans. I would like to congratulate Tusker Simba XV's for making us proud and being the pride of a nation. They flew the Kenyan flag high and it showed on that field," said Joe Muganda.
Mr. Muganda commended the team for their efforts and pledged Tusker's support for them.
"Our challenge is to take the 15's Aside game to the same high standards that our national 7's team has reached and be the first East African country to take part in the World Cup," Mr. Muganda added.
"The boys performed commendably in Madagascar and it is our strong belief that this is a show of things to come for the team. Tusker's support has been most generous and it is only a matter of time before we compete at the same level as the game's elite. The entire KRU thanks Joe Muganda and Tusker for placing faith behind the Kenya 15's and supporting our efforts to qualify for the 2015 Rugby World Cup in England," said Mr. Muthee
The Tusker Simba XV's are now settling down and making preparations to face the Ugandan National Team, both away and home.