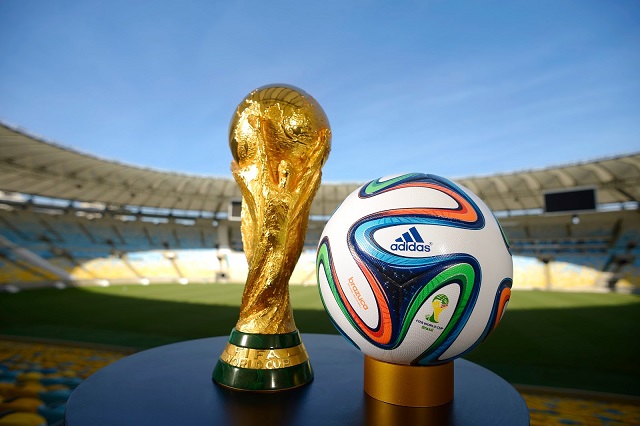 The world cup is upon us. Thank goodness. For the next one month football shall be our religion, for some of us. The world cup shall pit some of the best footballing nations against each other with some late bloomers making it to the fray like Belgium and Colombia.
For me the group of death has to be group D. With England, Italy, Uruguay and Costa Rica you never know who'll make it to the next round. I am also looking forward to some big matches in the group stages such as a repeat of the 2010 final between Spain and the Netherlands and the game between Germany and Portugal.

Many of the fortune tellers have predicted that Brazil will take this cup on home soil but I wouldn't be so sure. Spain are still the best team in the world and there are some really great teams with equal chances of winning the cup. So let's not rule out the likes of Argentina, Italy, Germany, the Netherlands, just to name a few. Plus some few dark horses such as France, Uruguay (if Suarez wins his fitness battle) and Belgium. You might have noticed I haven't mentioned England yet. As much as I love using them on FIFA 14 you never really know with the English. They have some of the best players on the planet but they often find a way to disappoint so I am a bit on the fence when it comes to them.
There will be several African team representing the continent. These include Cameroon, Algeria, Nigeria, Ghana and Ivory Coast. We will be hoping that one of them ups the showing made by Ghana in 2010 and makes it past the quarter finals. Looking at their groups I am not that positive with some of the team's chances of making it past the group stages. Ghana have been placed in the so called group of death and it might be difficult for the them to beat Germany and Portugal and make it to the next round. But we must be hopeful, you never know with football. I think if Algeria play their cards right they might make it past the group stages. Nigeria and Ivory coast too. As for Cameroon, hmmm, they are a team with so many issues off the pitch so I'll give them a 50-50 chance. If all African teams progress to the knock-out stages then this will be a big statement to the world but we'll take what we are given.
So who made it to my world cup dream team?
I'll go with a 4-3-3 formation.
GK: Buffon (Italy). He's still one of the best keepers out there. If not him I would go with Casillas.
RB: Philip Lahm (Germany)
CB: Thiago Silva (Brazil) and Giorgio Chiellini (Italy)
LB: Jordi Alba (Spain)
DM: Andrea Pirlo (Italy)
CM: Steven Gerrard (England)
AM: Mesut Ozil (Germany)
LW: Neymar (Brazil)
RW: Messi (Argentina)
ST: Christiano Ronaldo (Portugal)
Resources
Download the entire world cup match schedule HERE (PDF)
View the match schedule HERE.
Add the match schedule to your Google Calendar HERE.
Find a list of the official FIFA apps HERE.