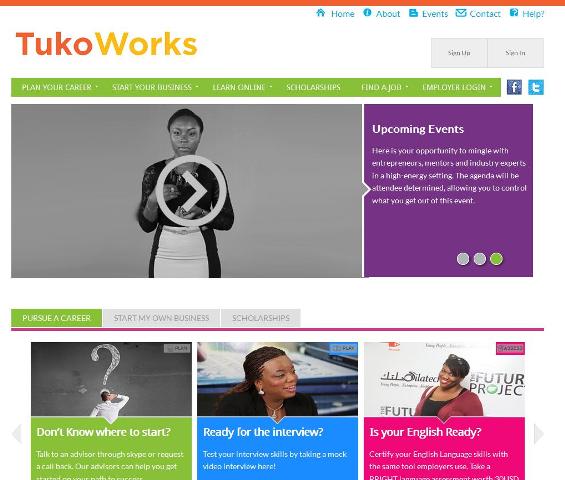 Following the introduction of an online portal called TukoWorks by Microsoft Corporation and Homeboyz Foundation, Kenyan youth are set to easily access information on available job opportunities and entrepreneurship. The website aims to provide Kenyan youth with free resources, training, career guidance services and entrepreneurial opportunities through a network of accessible tools and content on various opportunities in addition to skills and enterprise development resources.
According to Microsoft Kenya Country Manager Kunle Awosika, "The introduction of the portal was necessitated by the need to bridge the information gap for job seekers, aspiring entrepreneurs and school leavers by providing a network of accessible opportunities on various openings as well as necessary training on how to start a new enterprise".
Kenya is the second country after Nigeria which has developed YouthWorks in sub-Saharan Africa, a program that Microsoft Corporation hopes to roll out in 19 countries across Africa and Middle East.
Speaking during the launch, Homeboyz Foundation Chairman Myke Rabar said, "Many young people have little or no skills and are therefore largely excluded from productive economic and social life. Those that have some education often exhibit skills irrelevant to current demand in the labour market. Leading to a situation where educational and skill requirements are increasing and thus, resulting in millions of unemployed and underemployed youth".
To check out information on the portal, users will be required to do a one-off sign up at no cost at tukoworks.co.ke which can be accessed from computers, tablets and mobile phones.
Features of the portal include
Key website features:
Career guidance tools: These assessments will support youth in their self-awareness to identify the skills they need to develop to be successful in their careers, and will help link them to the appropriate career advisors, training and opportunities.
Job matching: Job, internship, and volunteer postings easily automated online, with job preparation resources on CV and cover letter writing, interviews, and workers' rights and responsibilities.
Extensive training options: For different skills, customized to specific target groups and jobs, and in categories such as IT skills, soft skills, entrepreneurial skills, and language skills.
Mentoring and volunteering matching: Leveraging various alumni networks and corporate, non-corporate and individual support.
Social media integration: Capturing real-time feedback of young leaders and job seekers, as well as employers, which can identify training gaps compared to requirements