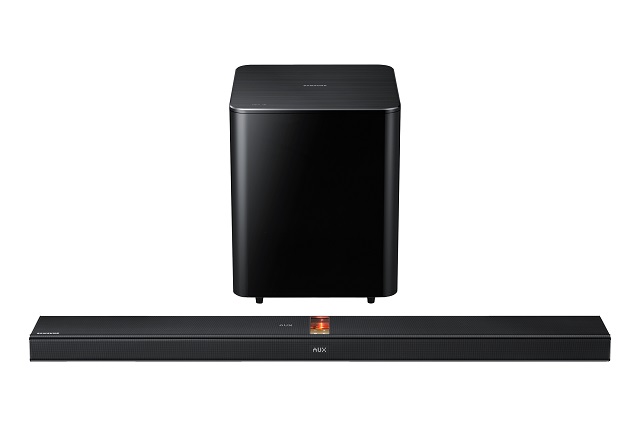 Samsung has unveiled the Air Track featuring the world's latest 3D Plus sound technology that enables listeners to enjoy a cinematic experience within the home.
Featuring the HW-F750, HW-F550 and HW-F350 ranges, the Air Track combines a 2.1-channel speaker and vacuum tube amplifier with vertical surround sound that fills the room from floor to ceiling with powerful, natural tones.
"The Air Track is one of the latest and the most technologically advanced sound bar that is changing the entertainment experience within the home. It will appeal to the consumer who is looking for an immersive sound experience, ideal for watching movies, sports, playing video games as well as for digital music enthusiasts." Said Robert Ngeru, Samsung East Africa Chief Operating Officer.
The Air Track which retails at Kshs. 57,995 adopts a simple and sleek appearance that can be easily matched with Samsung LED TVs. It supports wireless connection to the TV through Bluetooth technology and optimizes sound output from the TV through its speaker position sensor. It enables the user to operate both devices through one remote.
How it works
)
Select Specifications
310W RMS Sound Power
2.1 Channel
Dolby Digital available
DTS available
3D Sound Plus Available
Vertical Surround available
Smart Volume available
Crystal Amplifier Pro available
Vacuum Tube Amp available
Auto Power Link available
Installation Position Sensor available
Anyent+ (HDMI-CEC) available
USB Host 2.0 Available
Bluetooth Available
SoundShare available
ARC (Audio Return Channel) available
HDMI Out available
1ea of HDMI Input
1ea of Audio Input
1ea of Optical Input