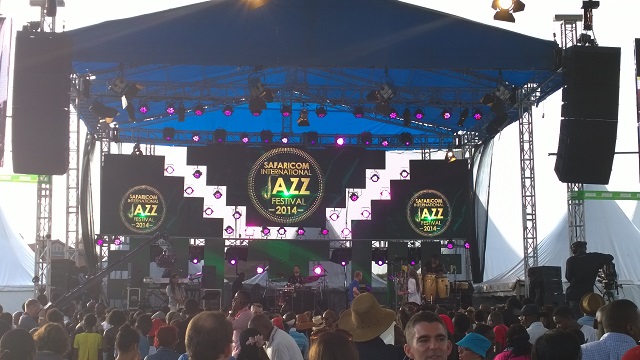 The traffic on Sunday afternoon 23rd February was backed up all the way to Kenyatta as jazz fans made their way to Ngong Racecourse for the inaugural Safaricom Jazz Festival. All in all it was a good event. However, there are a few things they could improve on. Here's a list of the good and the not so good at the event.
The Good
1. The security was on point
Most events and public spaces have lackluster security. I was happy to see thorough searching happening on not only pedestrians, but also those arriving in cars. You could tell the security was well coordinated as well.
2. The sound was near perfect
Nothing lets down an event more than bad sound. It was a relief to find that the sound was pretty good. You could really hear the different elements in the music and comfortably enjoy the great acts on stage.
3. The acts were amazing
The acts were: The Nile Project (Nile Basin), Rhythm Junks (Belgium), Yuval Cohen (Israel) Jacob and Kavutha Asiyo, Aaron Rimbui (who had Sauti Sol join him on stage for a performance of Awinja), Eddie Grey and Richard Bona (Cameroon/USA). My favourites were The Nile Project, Rhythm Junks, Eddie Grey, and of course, the headliner himself, Richard Bona. Richard Bona had us on our feet his whole set! Amazing music and amazing performance. Very much worth the wait. I especially loved the fact that they had a lot of Kenyan acts on stage. Way to go in supporting Kenyan musicians.
4. Great time keeping
There's nothing as annoying as showing up for an event on time and then it begins an hour later than advertised and ends even later. It started and ended on time. Although we would have loved it to end a little later with Richard Bona getting a little extra time. The changeovers between the different acts took a relatively short time as well.
5. Great seating arrangements
Grass isn't the best to sit on especially in dodgy weather. It was nice to find they'd laid down a plastic sheet that those who hadn't carried any shukas or mats could comfortably sit on as well.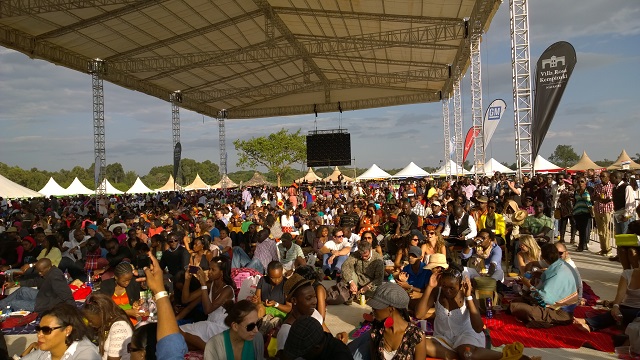 The Bad
1. Lack of much choice in food selection
No one is asking for a gourmet menu but it'd be nice to have a bit more variety and food that is actually good. I had fries and goat meat that was ridiculously expensive at 500 bob. Even worse, the food was undercooked and tasted like rubber. Definitely put in a mental note to bring my own food next time.
2. Cameras blocking the stage
I am all for great coverage and that was evidently there as those not near the stage could still see what was happening via strategically placed screens. However, for those of us who were near the stage, the cameras were a distraction. They were blocking some of the stage. You want to be looking directly at Richard Bona who's a few feet away from you and instead the crane is sweeping in for a shot and you have to look at the screens.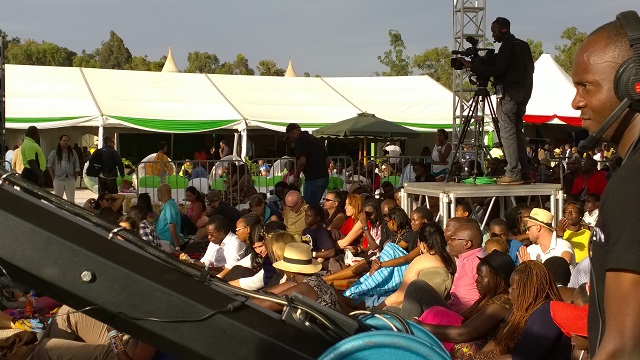 3. Lackluster VIP
The VIP was situated away from the stage and they were watching via a screen. I noticed a number of people moving from the VIP and coming closer to the stage, including a friend of mine who complained he wish he'd just gotten a regular ticket. If the 'wananchi' are having a better view than the VIPs, then that's not much of a VIP. VIP isn't just for comfortable seating, but also a great view.
All in all, the event was great. Considering how little time they had in putting this event together, the team at Safaricom lead by Zaheeda Suleiman, Rita Okuthe and Rahab Nderu did an amazing job. I look forward to the next one and know that it will be bigger and better.