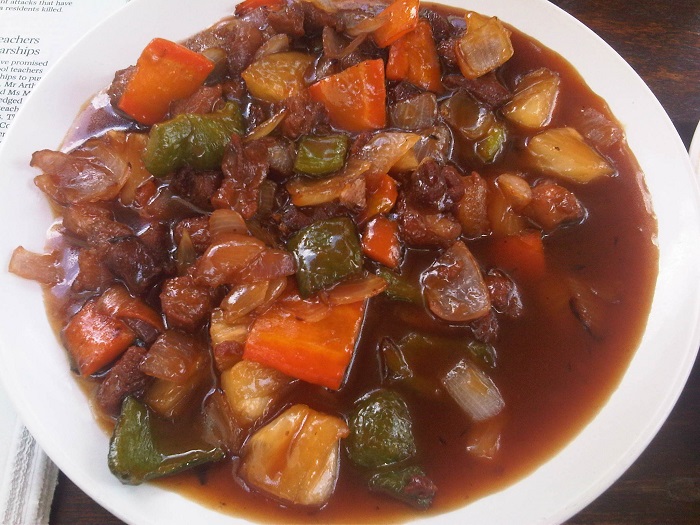 Being a foodie and in need for a new restaurant that caters to my first true love, that being Chinese food, I went to Hongs Restaurant located opposite Yaya center, a few feet from Trackers bar. It is a quaint bright restaurant. The walls are painted a nice Cherrie yellow that is inviting and on each table you find flower vases and it has a rustic type of feel to it. I decided to sit outside because it was a beautiful day and the outside area looked inviting.
The service there was on point because as soon as I sat down the waiter came to my side to see if they could help me with anything. They were friendly and that made my experience really good because they paid attention to their customers and didn't leave anything to chance.
I ordered the sweet and sour pork with vegetable rice. And I must say, weren't my taste buds excited by the meal. The flavors hit you as soon as you take your first bite. Not to mention they put a great amount of food, which even I couldn't finish, and trust me I tried so hard to. The pricing of the food I thought was fair because the meals range from Ksh. 100 to Ksh. 900 and for good Chinese food I'd say it is worth it.
The ambiance is nice and relaxing. Lucky are the people who stay around the area because they get free delivery. But not to worry if your company or organization is in need of some catering, or a space where they can have a conference or office party, then Hongs restaurant caters to everyone. They have a large space that can accommodate quiet a number of people and so if you're looking to have a place that you can hire for the weekend party, wedding reception and so on then this is the place to go.
They carry offers every day for Ksh. 500 and they also have pizzas from Ksh. 650.
Side note for the vegetarians out there, they have vegetarian meals as well. Enjoy!