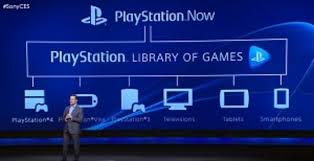 The annual Consumer Electronics Tradeshow (CES) is always something techies look forward to. Something new is always released into the market that makes life so much more fun and interesting.
2014 started off well with many companies exhibiting their new merchandise at CES in Las Vegas Nevada. One group that may have left feeling better about how things are going are the gamers. This is after Sony unveiled Playstation Now, a service that brings PS3 games to the PS4.
I am not a gamer, but I'm told this is something worth getting excited about.
Sony might have announced that it sold 4.2 million PS4s before the end of 2013, but gamers had a few issues with the new machine. Most were not happy at the fact that it doesn't support PS3 games ion the new console.
The PS3 did launch with backward compatibility with PS2 games but that feature was pulled following hardware revisions. With the PS4 simply not shipping with PS3 game support out of the box, gamers were left with 2 options: either keeping their old hardware or simply dumping the PS3 completely, something they were not pleased about.
But Sony has fixed this by bringing into the market the Playstation Now. It allows games from the PlayStation, PS2, PS3 eras to be streamed to PS4 rather than offer hardware compatibility. This was made possible through the game streaming service Gaikai, which Sony bought back in 2012.
Sony will offer Playstation Now as a subscription service, though one-off rentals will also be possible.
There's no word on exactly when PlayStation Now will launch to the public, but a US-based beta will launch by the end of January and a full roll-out will happen this summer.