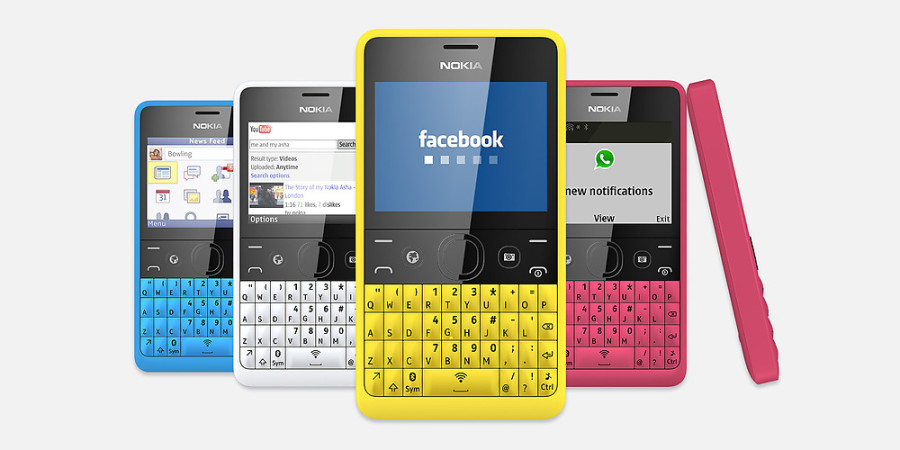 The Nokia Asha 210 is a beautiful looking phone. It comes in a range of the colours that have become a stable of Nokia's latest phones: cyan, black, white, yellow and magenta. It already screams fun before you even use it and doesn't disappoint in that regard. It is shaped like a box at about half an inch. It is a QWERTY handset which is interesting as most phones have a touchscreen nowadays. I haven't used a QWERTY handset in quite a while so I was a bit worried about that. However, it's very easy to use. I adapted quite fast and was texting away like a pro in a day. The phone is light and sits well in the hand.
The box has the basics: Nokia charger, one pair of earphones and the manual in English and Swahili for the Kenyan market. The phone has a 4GB microSD card already inserted in the memory slot. There's no USB cable though, but the phone can comfortably charge via USB.
The screen resolution is fairly low at only 240*320 pixels which presents a challenge in seeing the screen in bright sunlight. It's easy enough to use though. It has a dedicated facebook key as well as a dedicated camera key. You can reassign the camera key if you so wish though. It also comes with whatsapp and twitter, clearly a phone geared towards the social media enthusiast. It has a 2 MP camera and no front camers, sadly so hopefully you have good aim for your selfies. It doesn't have 3G but it has Wi-Fi and supports FM radio. The loudspeaker is pretty loud. The space bar doubles as an on/off Wi-Fi switch upon long press, and the symbol key on its left does the same for Bluetooth.
The browser can get a bit slow but most sites mobile versions load okay. The Nokia browser compresses data quite a bit so it's a good fit for someone buying data on a budget. You can comfortably get on one of those daily bundle data plans and won't go over your limit. It has the nifty Nokia new "Slam" technology which is a pretty easy way to share files over Bluetooth without pairing phones.
The Nokia 210 supports dual SIM. A cool detail is that the SIM card slot is situated on the side of the phone so you don't have to pop the back to swap the SIM. You can literally swap SIMs on the go. The phone also has no ports or keys on the sides or the bottom. It just has a charging port, audio jack port and a microUSB port. The battery life is very good supporting up to 46 days of standby time on a single SIM. I know right!
All in all, if you're looking for an affordable (the phone goes for just Kshs. 7,500) good looking, easy to use phone that has an emphasis on social media, the Nokia 210 is the phone for you.
The Asha 210 is retailing at Kshs 7,500 and is available from Midcom, Nokia shops and authorized dealers.
Select specifications
Dimensions: 111.5 x 60 x 11.8 mm
Weight: 97.3 g
Display: 2.4 inch screen (320 x 240 pixels)
Back camera: 2 MegaPixel (1600×1200 pixels)
Talk time (2G): Up to 12 hours