Safety is one of the factors that make people choose a taxi service. Most people have a taxi guy that they trust and can always call on at any time. When Uber was launched in Kenya, it was sold as safe and customers were told that they could trust the service because of the background checks they run on their drivers. But is it completely safe?
Catherine Njeri used an Uber taxi last night. Her driver was especially prickly after their initial conversation. At some point he threatened to drop her off at a place that's known for incidences of rape and carjacking. He ended up not dropping her at the location she requested and then he hit her. She eventually alighted at another location. He didn't drive off and she was afraid he was going to come back but luckily she ran into someone who helped her hide and later took her to a police station. Below is the full story in her own words.
"Be weary of an Uber Driver named Stephen drives a Nissan Tiida registration number KCE tel number 0713 *** 593.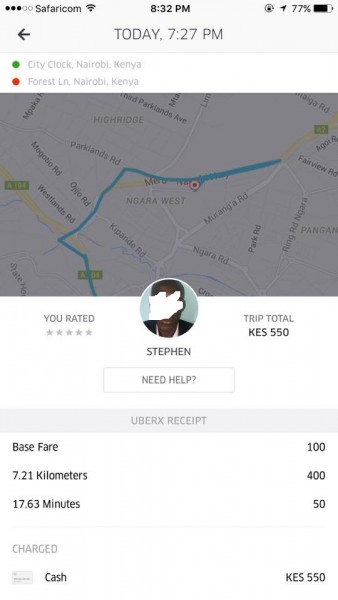 Today at 7.30 p.m.he picked me up from Town.
Didn't take too kindly to perhaps a woman giving him directions. When I saw our conversation was degenerating, I told him to just stop talking to me and take me to my location.
He's pissed off at this point and wants to drop me off at a place known as "Makaburi" which is prone to incidents of hijacking and rape . This is when I tell him that I won't pay him if he doesn't drop me home. He's like then I will take you back to Town and I'm like please take me to Parklands Police Station instead.
When we reached where I live, I tell him this is where I live you can stop here. I didn't want to show him the apartments I live in because at this point I'm scared. He's like where do you live. Here is fine I say . I'm pissed of at this stage and anyone who knows me will know I curse like a sailor when mad.
He goes…where do you live. And I say again you can drop me here.
This is where it gets bad… the poor excuse hits my arm with his fist.
Then he drives off saying That I have said I won't pay him and I'm thinking in my head this guy is freaking nuts. I'm scared out of my mind at this point. freaking out actually!!!! He's calling me all manner insults including prostitute at this time.
Five minutes later he says get out of the car. I'm familiar with this location, it's relatively safe. Im OK. I'm alive. I get out and he drives off.
Then he stops and wait.
I rush to the apartment building nearby because I know they have dogs. My dog and these dogs are boys.
I bang on the gate hoping that the noise from the dogs barking will scare him off.
Luckily, a guy in a motorcycle written McFrys comes up and I'm hysterical at this point and I give him a summary of events. This is when the uber driver starts making a U-turn and the Boda guy tells me get behind. It's not safe.
So I do and he does one of those things I see in movies because we ride and hide in the other side of the same apartment block until the Uber driver drives by.
My knight in shining armor by the name of Samuel takes me to Parklands Police Station.
And that is the end of my relationship with Uber."
Njeri says that she shared her story so that she can warn other women who use Uber taxis when they are alone. She also wishes that Uber had more women drivers and that one could choose to only ride women drivers.