Kitui County Governor Hon. Charity Ngilu has received five specially built Isuzu trucks for transporting cattle. The trucks, valued at Ksh. 11.7 million each, are part of the Kitui County Livestock Project initiated to support livestock traders ease the transportation of animals to markets and the three abattoirs in the county.
This initiative is meant to minimize the financial losses incurred by livestock farmers and traders when the animals trek long distances to the markets.
Speaking during the handover of the FVZ Isuzu trucks, Rita Kavashe, Isuzu East Africa Managing Director said, "As at 2020, more than 83% of Kenyans were employed or earned their living from the Small and Micro enterprise sector of which agribusiness still accounts for a significant chunk," she said.
Ms. Kavashe further acknowledged the remarkable steps that devolution had taken in empowering Kenyans through such county government initiatives.
It is estimated that over 60% of Kenya's livestock is produced in the Arid and Semi-arid Lands (ASAL) which cover the bigger part of Kenya's territory, including Kitui County.
The specially built FVZ Isuzu trucks are part of the company's logistics support program where vehicles are developed with input from customers to suit specialized customer requirements.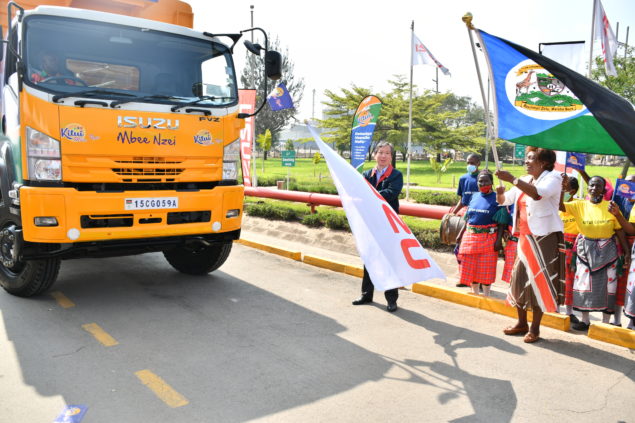 Also speaking at the truck handover ceremony, Isuzu East Africa Chairman Hiroshi Hisatomi said, "We have designed purpose-built vehicles that can be fitted with cooling equipment for transporting perishable commodities including meat products and horticultural produce (Cold Chain Solutions), vehicles for Kenya Power, tea leaf transporters and much more."
On her part, while receiving the trucks, Hon. Charity Ngilu, the Kitui County Governor reiterated the difficulties farmers in Arid and Semi-arid Lands (ASAL) face, including loss of livestock due to harsh weather.
"Our livestock traders lose about Ksh 20,000 per animal, which adds up to over Ksh 3billion annually walking cows to abattoirs or markets in an already dry and arid environment. These trucks will ensure animals get to the market in the shortest time possible and in good condition," said the Governor.