Don Julio Global Brand Ambassador Deano Moncrieffe was in Kenya to promote the premium tequila brand. Among the activities lined were mentorship sessions with bartenders, mixologists and connoisseurs. I caught up him at one of the sessions and this is what he had to say.
Tell me about yourself
My journey started in 1999. I had gone to Paris to promote a book I'd been writing. I was very young and naive and I thought I'd be a successful writer and live in Paris for the rest of my days. But then I ran out of money and I had to find a job. I got a job at this bar- it was called Chesterfield Cafe where I met a manager there who influenced the rest of my career by encouraging me and telling me what I needed to do to be a great bartender. Nine months later I entered my first cocktail competition and I won and I felt that this was for me.
Tell me about the Don Julio brand and how you got involved with it
Before I started working for the brand, I'd always liked it and was quite passionate about tequila. I always wanted to work in the tequila category so about 6 months before I got the job at Don Julio, I'd been applying for lots of jobs, Then I met some people whom I made what they thought were great cocktails and the rest is history, I started working for the company for about 6 months but it was through an agency, and before my contract ended, I contacted Diageo who owns the brand and asked him if I could work for him. So I started at Don Julio as a mixologist for them.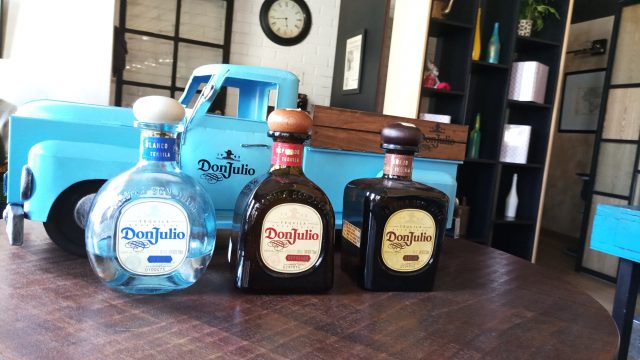 How would you classify the 3 Don Julio tequila brands that we have in Kenya?
So there is a tequila for everyone. There is the Blanco, the Reposado and the Anejo which we have here. The main difference between them is the age and basically the amount of time that they've been in the barrels. It's the same liquid from the Blanco to the Anejo but the difference is how we age it and the specific barrels that we use.
For example the Blanco isn't aged at all. It comes straight off the pot and is very fresh. It's your typical tequila taste and it's also a little sweeter than your average taste because that is the characteristic if the area in which we make it.
The Reposado is aged for 8 months and that for me is the perfect combination of sugar and spice and it's my go to tequila if I'm going to make cocktails.
The Anejo is aged for 18 months and it has a very complex taste. It's actually the master distillers favorite drink. He has it on the rocks.
What would you say is the unique quality if the Don Julio tequilas?
It all starts with production and Don Julio himself was really passionate about creating the best tequila there is. So you really have to love and understand the agave plant. For us the unique characteristics would be superior production and the natural agave flavor which comes all the way through and consistency of the quality and, you can qualify it as being a high end tequila with a little bit of something extra.
How would you recommend the customers drink these three tequilas?
In good company. That's all you need to do. Have good company. But what I'd say is the Blanco is good for any classic cocktail. The Rreposado is great for those who like bourbon cocktails so you can replace the bourbon with it or just sip it on the rocks. If you're a fan of scotch then you can switch up the scotch cocktail and use the Don Julio Anejo.
Which food pairing would you recommend these three tequilas?
The Blanco is great with seafood and you can use it flambe your fish as well. The Reposado works really well with chicken and pork. The Anejo is great with dark red meats like beef and you can use them in cooking as well.
What are some of the biggest misconceptions about tequila?
It's probably the most misunderstood category and that is because people really abuse it. So they have probably already drunk before they start drinking tequila and they feel bad the next day and they blame it on tequila. It's really difficult to have a bad time on 100% agave tequila. So if its pure and 100% agave tequila like Don Julio then it's really difficult to have a bad time.
And then the other thing is the salt and lime and that was something the Americans did because at the time the tequila was really bad and they used the salt and lime to mask the taste before they took a shot.
What responsible drinking tips can you share?
Responsible drinking is something that is really personal so for me, responsible drinking is knowing your limits. And then don't drink and drive because I was hit by a drunk driver once and was off work for 18 months with a broken hip and a broken back so for me those two would be responsible drinking tips.
What do you see as the future of tequila?
You'll start seeing a little more representation on the cocktail menu and more presence in the back bar instead of seeing just one or two tequilas, you might start seeing maybe a dozen tequilas. It might not happen straight away but then we have a lot of big brands seeing how fast this category is growing and we have data to support that; it grows in the double digits every year so it's going to be very popular.
What do you think are the opportunities for tequila here?
Both my parents are from Jamaica and when I first landed here, I found it very similar to Jamaica. The colour of the soil and the natural fruits that we have here that are also in the Caribbean. So it was great to be working here and using all the locally sourced and natural ingredients.
Advice to bartenders who are starting out and those thinking about using tequila in their cocktails
My advice would be don't be afraid to experiment. The other thing is, tequila is the most versatile drink there is and once you begin to understand the complexities of the agave plant which is the main ingredient then there are so many different ways you can go with it in terms of flavor.