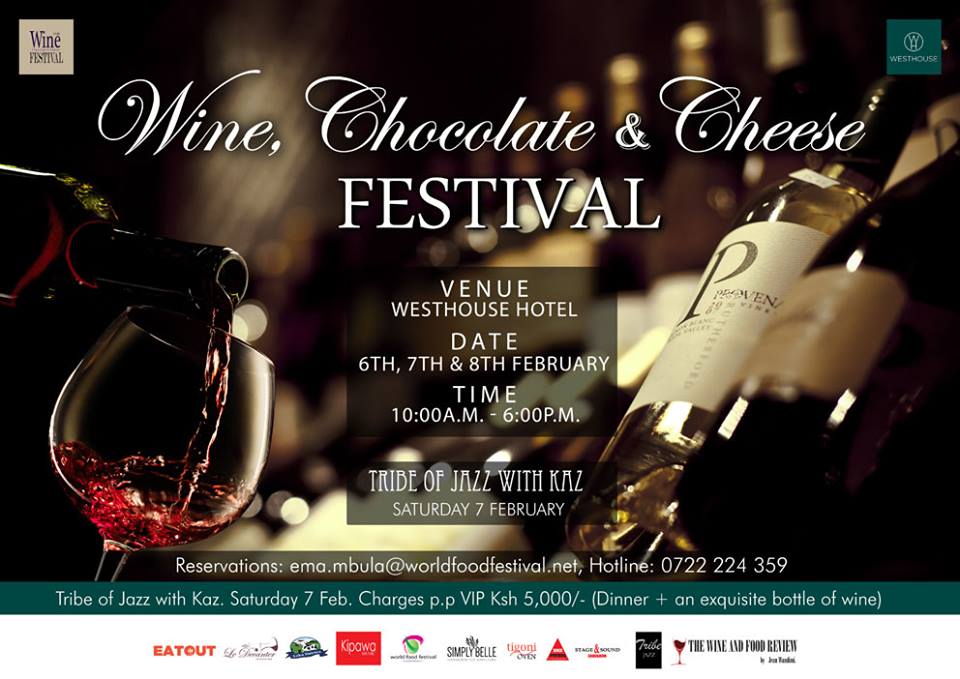 Dear wine, chocolate and cheese lovers,
Very few things can match up to the aforemention items, maybe bacon 🙂 – everybody loves bacon. And whisky, beer, vodka…I digress. The three – wine, chocolate and cheese – still make the list and there's not better way to celebrate them than to meet up fellow enthusiasts at the Wine, Chocolate and Cheese Festival.

The Wine, Chocolate and Cheese Festival pairs together 3 delicious treats from all over the world in one place at one time.It's happening from the 6th to the 8th of February at the WestHouse hotel and is a must attend.
Attendees will learn how to pair over 40 top class Wine brands from South Africa, Italy, and Spain with corresponding cheese and chocolate variants from various countries in what will be East Africa's premier social event.
Delightful Chocolate cakes, deserts, ice cream, biscuits, pies and snacks with generous chocolate toppings will be on display. You also get to hang out with our Experts and enter the amazing world of Cheddar, Camembert, Cottage, Stilton, Parmesan and Feta Cheese. Have a glass of your favorite wine, or taste a new variant as you mingle and meet new faces.
For jazz lovers, there's an exquisite Jazz and Wine Concert on Saturday evening from 7 pm.
You can grab your tickets on TicketSasa.