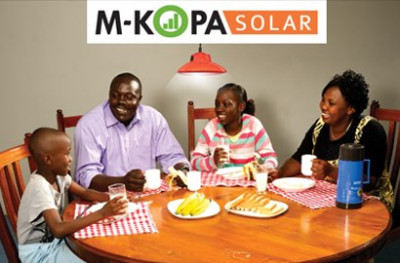 M-Kopa Solar, a Kenyan green-energy company has won the Zayed Future Energy prize in the enterprise and SME category. They were announced as winner at the opening ceremony of the annual Abu Dhabi Sustainability Week. This win brings with it a US$1.5 million (Ksh133 million) prize which M-KOPA Solar will use to launch a training and development program called M-KOPA University, which will provide technical and business skills development to employees, sales agents and partners.
M-KOPA Solar prvides 'pay-as-you-go' energy services for off-grid customers – combining mobile payments with GSM technology to enable the leasing of solar power systems.
M-KOPA University will be hosted in the company's Nairobi headquarters to provide an onsite and remote curriculum. By 2018, M-KOPA University will provide training to over 1,000 staff and 3,000 sales agents across East Africa, as well as to M-KOPA's licensing and distribution partners in other parts of Africa and Asia.
M-KOPA Solar customers buy a solar home system with an initial deposit of $35 (Sh3150), followed by 365 daily payments of Sh40 – which is cheaper than their daily spend on kerosene. After completing the payment package, customers own the system outright.