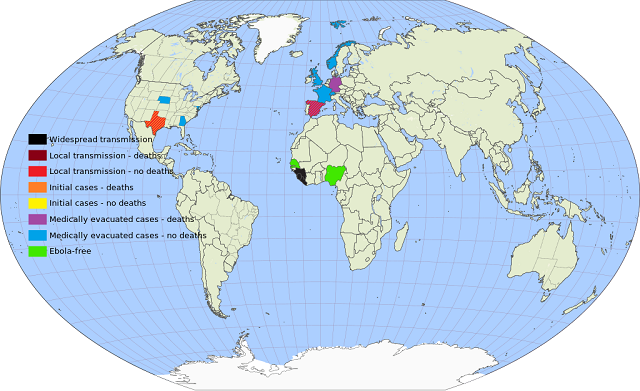 An epidemic of the Ebola virus disease, that started in Guinea in December last year and then initially spread to Liberia and Sierra Leone, has caused worry and, sometimes, panic almost everywhere in the world. In the countries where there have been Ebola cases, it's mostly people who have travelled from affected countries that have been responsible for its cross border foray. This has forced countries to put in place measures to ensure that people travelling from affected countries will be screened as way of curtailing the spread of the Ebola virus. This measure has been skewed mostly towards African countries that have reported Ebola cases and ignoring the two countries in the West that also have Ebola cases.
Rwanda, however, has taken a different route. It is screening nationals from all the 5 countries that currently have Ebola virus cases even the US and Spain. The screening applies to citizens and those who have been in those 5 countries in the last 22 days prior to a visit to Rwanda.
The US Embassy in Rwanda posted the following info on its website:
On October 19, the Rwandan Ministry of Health introduced new Ebola Virus Disease screening requirements. Visitors who have been in the United States or Spain during the last 22 days are now required to report their medical condition—regardless of whether they are experiencing symptoms of Ebola—by telephone by dialing 114 between 7:00 a.m. and 8:00 p.m. for the duration of their visit to Rwanda (if less than 21 days), or for the first 21 days of their visit to Rwanda. Rwandan authorities continue to deny entry to visitors who traveled to Guinea, Liberia, Senegal, or Sierra Leone within the past 22 days.
The screening form is below [H/T: Bougie Black Girl]