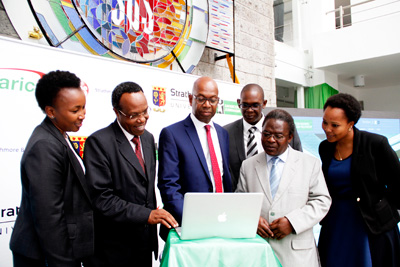 Strathmore Business School has launched the inaugural Safaricom Business Journalists Fellowship; a one-year, mid-career program that gives business journalists the opportunity to train alongside Kenya's leading business lecturers and some of the top leading newsmakers in the region.
The highly competitive program will admit only fifteen of the most promising candidates in the first year. They will be taken through 3 modules whereby each module will be four days of intense training.
Nine intensive half day workshops spread over nine months will feature as part of the program; the journalists will also be hosted to dinner events where they will get a chance to mingle with the leading newsmakers in Kenya.
Speaking during the launch, Strathmore University Vice- Chancellor Dr. John Odhiambo said, "Business managers and owners are generally better educated about their world than are most of the journalists assigned to cover it. The imbalance puts reporters at a serious disadvantage. A middle ground of understanding can be attained through programs such as the Safaricom Business Journalists Fellowship."
Some of the topics to be covered include; Economic Analysis and Financial Analysis. The half day workshops will cover topics ranging from world economics, technology to corporate governance and CSR.
Safaricom is sponsoring the participants to undertake the rigorous 30 hour credit course. To apply for the fellowship go to sbs.strathmore.edu