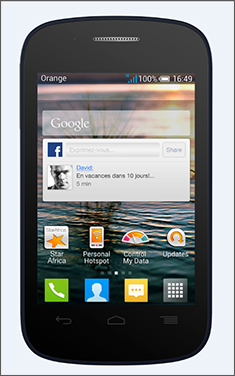 Following the successful launch by Orange of the original Alcatel Onetouch PIXI which sold nearly 250,000 in 6 months, Orange is bringing the one of the most affordable smartphones available to customers across Africa & Middle East; the Alcatel Onetouch PIXI 2.
"The smartphone landscape is rapidly changing – with high quality smartphones becoming increasingly affordable and accessible," said Yves Maitre, Executive Vice President, Connected Objects and Partnerships at Orange.
"At Orange we continue to make the internet more accessible to our customers in Africa and the Middle East by providing the best phones and tablets, on the best networks, with localised content and services at a price that is accessible for even more of our customers," he added.
With the 100g sized ALCATEL ONETOUCH PIXI 2, Orange offers customers a full featured 3G Android Jellybean 4.2 smartphone with a 3.5″HVGA screen, dual-core 1.0 GHz processor, 2GB of memory and 512 MB of RAM.
The ALCATEL ONETOUCH PIXI 2 comes pre-loaded with the top social networks and other popular applications, and Orange customers will have access to a range of great benefits, including:
Orange Football Fan Club: This allows the user to easily follow the news about their favourite teams and gain access to international football news. In-app gaming also allows you to play and bet on matches and to win prizes.
Orange Updates: This offers the possibility to access the Orange apps catalogue which has been created together with local and international partners, and allows customers to download a variety of Orange apps at no additional cost.
"My personal hotspot": Users get to access sharing across multiple screens with only one internet connection, and simply manage connections from all devices. With one click, the smartphone is transformed into a Wi-Fi hotspot.
Lookout Mobile Security: Installed on every ALCATEL ONETOUCH PIXI 2, this app provides anti-virus protection, monitors and saves data, encrypts your confidential information, and tracks the smartphone when it is either lost or stolen.
My Orange: With 'My Orange', customers can stay in touch with their Orange account, following the rate of voice, SMS, & data consumption, and recharge their account.
Control My Data : Customers get to monitor their data consumption on the mobile network, Wi-Fi network and also when roaming. It notifies customers when they reach a data limit that they choose, and allows customers to block data usage by application.