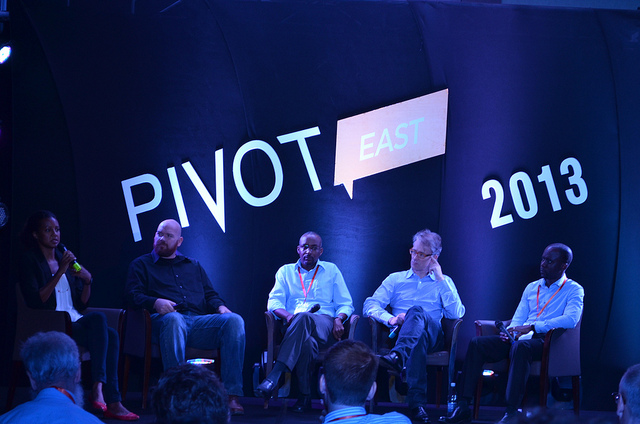 The finalists for PIVOT East 2014 have finally been unveiled. 25 exceptional start-ups, among them Kenyans make up the list. The selected start-ups will be in the running to win recognition and investor interest during the pitching conference which is set to be held on 24-25th June in Nairobi.
The start-ups were unveiled today after an intense evaluation process by a panel involving over 20 investors. The 25 finalists, 5 from each category were selected from the 50 semi-finalists announced three weeks ago
The start-ups that have made it to the finals are;
Finance category: Valuraha, Chamasoft and Chura from Kenya and Beyonic and Ensibuuko from Uganda .
Enterprise category: Thinvoid (Uganda), Online Hisab (Ethiopia), Buymore, ASim Mobile and Offers Africa from Kenya.
Entertainment category: Safari Tales, Muva Studios, Momentum Core and MapJam from Kenya and Ubongo from Tanzanai .
Utilities category: Maramoja Transport, Gari Sms, Mavazi, Sendy and Mafundi from Kenya.
Society category: SokoNect, Totohealth, SokoText from Kenya and Zapmedic and Moquestions from Uganda.
Get the full list of the finalists with a brief description of their product.
Speaking on the list of finalists, Chase Bank Head of Brand and Corporate Affairs Magdalene Mulandi said: "Chase Bank is pleased be part of this innovative initiative. As the gold sponsors of the competition, we are happy to see the contestants' present innovative and creative ideas that could transform the socio-economic development of the East African region. Chase Bank lauds the start-ups that made it to finals and we hope to walk with them as they pursue their dreams of being tech entrepreneurs."
Out of the 25 startups that made it to the finalists, 18 are from Kenya. 5 of the start-ups are from Uganda. Tanzania and Ethiopia are represented in the list by one start-up each. For each category a 6th best start-up has been placed in a waiting list and may pitch at the conference if a finalist in the category drops out for any reason. Start-ups in the waiting list are; Somo (Society), ParcelSolution (Utilities), Epic (Entertainment), RTSOP (Entreprise) and FarmDrive (Finance).
Investors that formed the finalist selection panels were from among venture capital firms, angel investors and impact investors. The individual angel investors were from thriving start-up ecosystems such as Silicon valley, Berlin, London and Singapore. Here is the full list of judges with brief descriptions about themselves.
Finalists of the competition will receive training, coaching and mentorship in the weeks to come before the pitching conference. These pre-conference activities will assist the finalists to improve key elements of their business models and the positioning of their start-ups to the audience at the conference.
Start-ups in the waiting list and the other semi-finalists who did not make it to the finalists will also benefit from the training, coaching and mentoring given to the finalists.