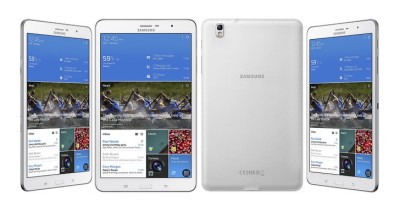 While everybody was waiting for Samsung to unveil the Galaxy S5, they decided to go a different way and unveiled a wide range of next-gen tablets at the just concluded Consumer Electronics Show (CES) in Las Vegas.
Of all the tablets, , the Galaxy Tab Pro stands out. The tablet comes in 3 sizes, the 8.4, 10.1 and 12.2 inch displays. While all 3 can hold their own in the market, the 8.4in is very impressive.
Up close the Galaxy Tab Pro 8.4in looks like a blown-up version of Samsung's Galaxy Note 3 smartphone. The 8.4-inch body measures in at just 7.2mm thick and 21.9cm wide. This makes it slim enough to be held, comfortably, in a single hand. The streamlined 336g weight is evenly distributed across the tablet's full form, giving it a comfortable balance when held single-handed.
The tab is loaded with an 8.4in 2560×1600 pixel resolution, super clear LCD capacitive touchscreen. Text displayed on the screen remains legible even in brightly lit conditions. The screen is super sensitive to hand gestures and causes no fuss when using.
The Galaxy Tab Pro 8.4in runs on Google's latest Android 4.4 KitKat operating system overlaid with Samsung's new Magazine UX skin. This alters the Android's user interface making it unrecognisable when first used. But after a while you get the hang of it. One thing you will notice while using the interface is that it has the inclusion of Samsung Knox security service. This is a security device designed to protect the device at a hardware level. Samsung says this will be able to ward off all manner of attacks, including Trojanised apps.
The Tab Pro 8.4in also features the Multi Window support which lets users split the Tab Pro's screen into up to four different windows. This means users can run, view and use up to four applications at any one time.
The Galaxy Tab Pro 8.4in has the potential to be one of 2014's best business tablets, it's the closest they have come to rivaling the iPad. Its ability to deliver will depend on its price – something Samsung is being quiet about at the moment.