Emirates yesterday hosted a wine tasting event in Nairobi to showcase the wines that it offers in first and business class on its flights. Emirates flies twice daily to Dubai from Jomo Kenyatta International Airport (JKIA) in Nairobi at 1635hrs and 2245hrs.
The event was held at Capital Cub and was hosted by Emirates sommelier and wine ambassador, Victor Dituro. Dituro works on Emirates flights to offer customers a wine experience on flights and to also advice on the perfect wine and food pairing.
The company apparently invested over Ksh. 13.5 billion (US$ 135 million) in its wine and spirits programme in 2018. They work directly with top vineyards and distilleries around the world to procure the world's best wines and spirits for its customers.
The company takes its wine selection seriously and it buys them from top vineyards all over the world. The company has invested over Ksh. 70 billion (USD 700 million) in expanding its wine collection since 2006. The company sources its wine from vineyards in 12 countries that include Argentina, Australia, Austria, Chile, France, Germany, Italy, New Zealand, Portugal, South Africa, Spain and USA. After buying the wines, the airline takes them to its wine cellar in Burgundy, France. The wine cellar has over 7 million bottles of wine from different parts of the world. The wine is kept at the wine cellar until it matures and then it is served on Emirates flights. Some of the wines that currently in the cellar will be served on flights in 2035.
The company offers customers on its flights a selection of 200 wines annually and they are constantly new ones while retiring others. They serve 80 different champagnes, wines and ports on their flights on an average day across their international network. This has led to consumption of 2.3 million bottles of wine and champagne in First and Business Class and 3.2 million bottles consumed in Economy Class in 2017. The airline projects that this will rise to 2.6 million bottles in first and business class and 3.6 million bottles in economy by the year 2020.
At the wine tasting took us through the wine selection that the company offers on its flights. He also presented 5 drinks that we would be trying on the night They were three wines, one champagne and one port. The 5 alcoholic drinks were also paired with food prepared by Mohsine Korich, the Executive chef at Capital Club Nairobi. The wine and food pairing was important for a fine dining experience. It is important to note that the wine and food offered on the Emirates flights may differ depending on the destination.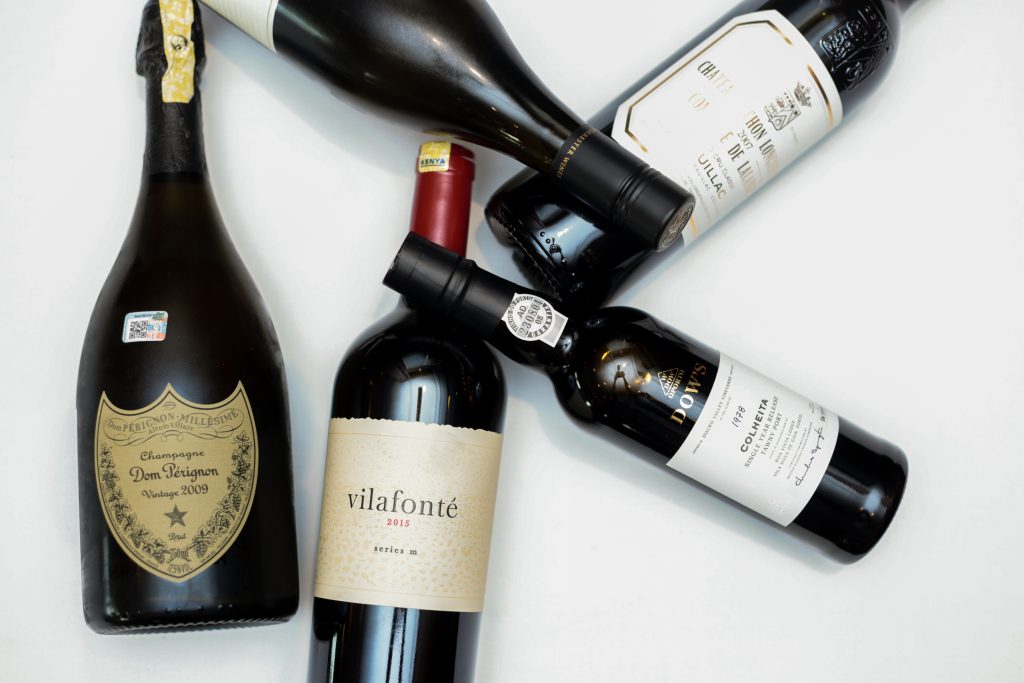 The wine and food pairing we had the pleasure of having was;
1. Dom Pérignon 2009
Dom Pérignon is a brand of vintage Champagne produced by the Champagne house Moët & Chandon. The company has worked with the airline for over 25 years. It is served in First Class.
Food pairing: Lobster salad with Beluga Caviar miso and soy vinaigrette.
2. Ken Forrester FMC Chenin Blanc 2015
Ken Forrester wines is located on the slopes of the Helderberg Mountain, in the heart of South Africa's most famous wine region Stellenbosch. They have partnered with Emirates for almost 10 years. This wine is served in First and Business Class.
Food pairing: Pan fried scallops with balsamic vinaigrette and arugula.
3. Château Pichon Longueville Comtesse de Lalande 2007
Pichon Lalande as the wine is commonly referred to, was rated as a second growth in the famous 1855 classification of the Medoc in Bordeaux. Emirates has been serving Pichon Lalande since 2011. This wine is served in First Class
Food pairing: Smoked duck breast with red cabbage.
4. Vilafonte Series M 2015
Vilafonte is a partnership between South African winemaker Mike Ratcliffe and his American counterparts, Zelma Long of Robert Mondavi and Phil Freese of Opus One. It is a recent addition to Emirates wine menu and it is served in First Class.
Food pairing: Land with red wine reduction, thyme and potato gratin.
5. Dow's Colheita 1978
Dow's colheitas (single harvest Tawny Ports) are aged for considerably longer than the minimum 7 years required by law. This wine has been maturing in casks for over 40 years. Emirates has been serving Dow's ports since 2007. It is served in First Class.
Food pairing: Mi-cuit of chocolate with salted caramel ice-cream.