President Uhuru Kenyatta is set to officially launch the new Standard Gauge Railway (SGR) tomorrow 31st May 2017. The new railway will make movement of people between Nairobi and Mombasa faster and cheaper.
The ticket prices on SGR trains from Nairobi to Mombasa will be Ksh. 700 on economy and Ksh. 3,000 for first class.
The new service, dubbed SGR Madaraka Express, is currently offering daily express services between Nairobi and Mombasa.
More details
Tickets: Purchase of tickets is at the SGR train terminals in Nairobi (Syokimau) and
Mombasa (Miritini) in cash or by debit/credit cards. An online purchase option is being worked on.
Booking options: Tickets can be booked upto four days before date of travel.
Train schedule
Mombasa to Nairobi – 09:00 am (Departure)
Nairobi to Mombasa – 09:00 am (Departure)
Mombasa to Nairobi – 01:30 pm (Arrival)
Nairobi to Mombasa – 01:30 pm (Arrival)
The train is currently only stopping in Mtito Andei.
Children's rates:
Under 3 years – free
Age 3-11 years – half price
Above 11 years – full price
Below are the full ticket prices.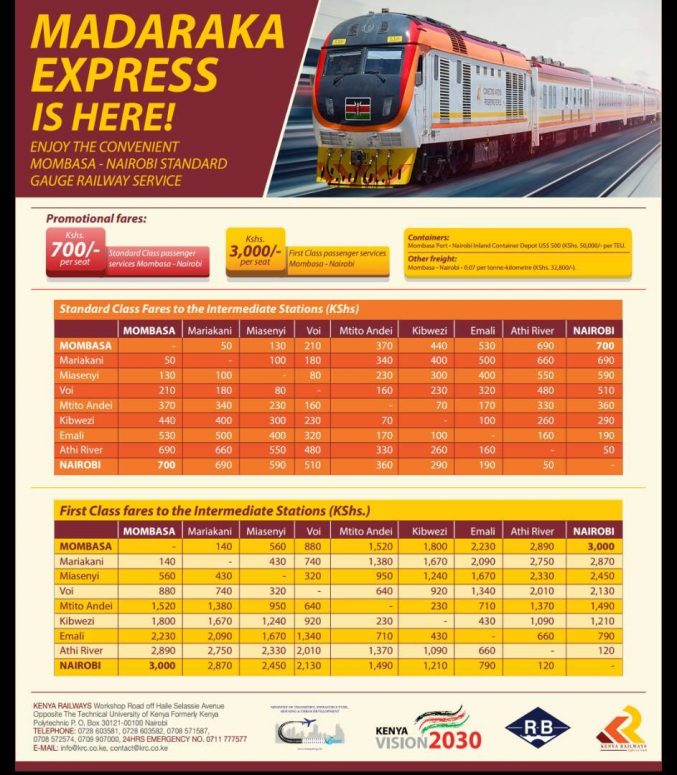 **An earlier version of this article reported that an economy ticket between Nairobi and Mombasa would cost Ksh. 900.