Last week, we highlighted how the current Kenya Films and Classification Board Act (KFCB) was punitive to filmmakers. This week, KFCB is at it again with a new bill, the Stage Plays and Publications Bill 2016, which is more punitive that the current one and also seeks to hand more powers to the Chief Executive Officer but also censor online content.
In this post we will highlight sections in the bill that we feel infringe on our constitutional rights as Kenyans. Here are some of the extracts;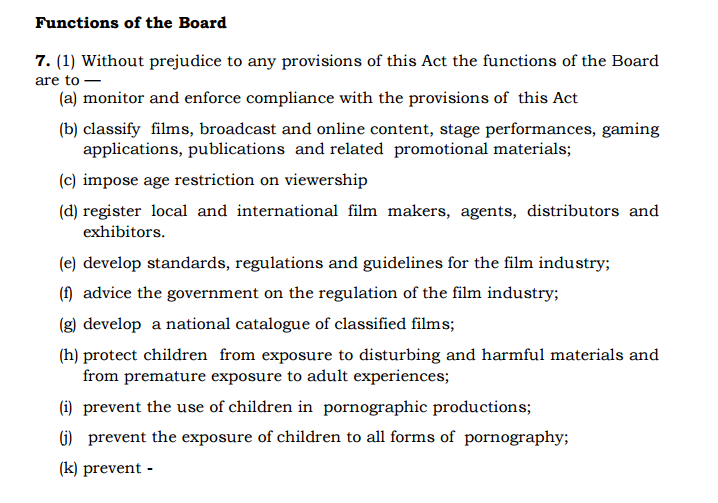 KFCB when it was formed back in 1962, was formed to classify films and stage plays hence has been regulated by the Kenya Films and Stage plays Act Cap 222. This new bill now even seeks to classify broadcast and online content, gaming applications, publications and related materials. This is a serious case of a government institution that is over stepping its boundaries no doubt with the support of the powers that be. It is no secret that the government has been seeking ways to regulate the online space more so in this election period. Hence a need to strongly reject such overtures.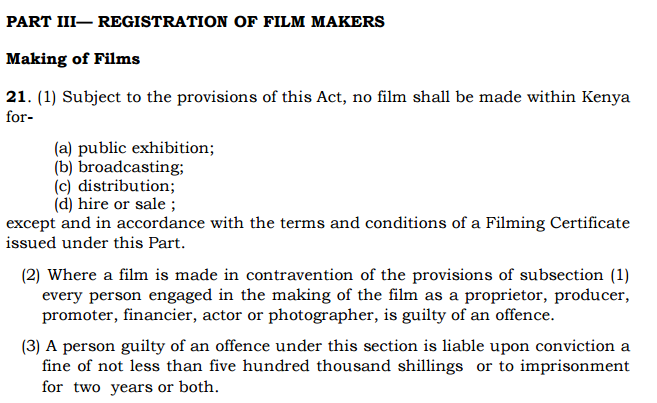 As I stated in the previous article, the government rather than helping build the creative space seeks to stifle it with unnecessary fees and charges. The certificate will obviously cost money that most filmmakers who are starting out might not have. The introduction of a fine and jail term for filming without a certificate is also very retrogressive.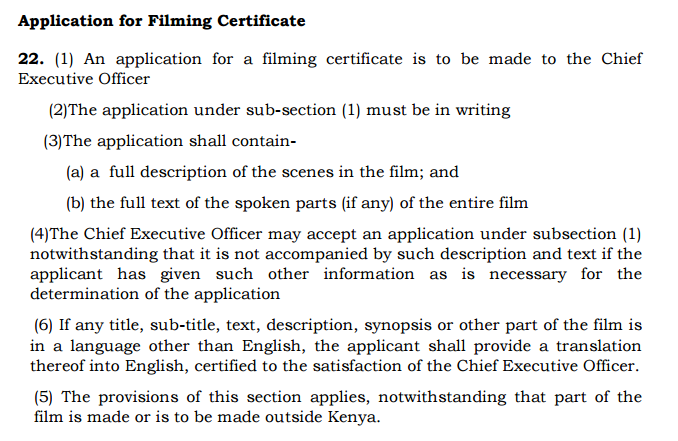 In this section the CEO in this case Ezekiel Mutua wants to give himself the sole authority to accept or reject applications for the filming certificate. In my opinion this is placing too much power in one individual and knowing how petty the CEO can be, this is a disaster in the making.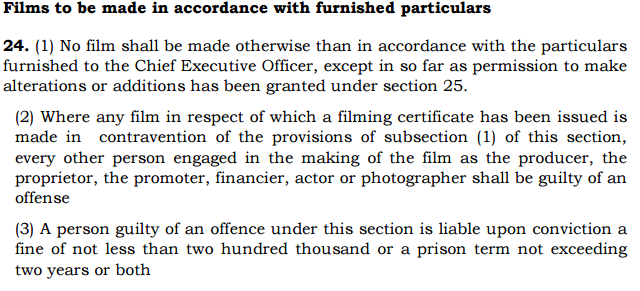 I feel that the fine of Kshs. 200,000 and the prison term of 2 years is too punitive for such a minor infringement.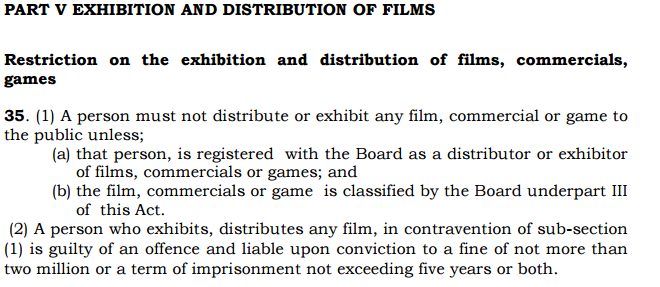 Every part of this bill is designed to be a money making venture for the government rather than supporting industry. Consider a scenario where a programmer has come up with a gaming app, even before releasing the app which can enable the programmer to monetize the app. He/she is expected to apply for a license to be a distributor which costs money. Bearing in mind that a return on investment is not guaranteed, this will lead to stifling of innovation in this sector as not many will be willing to take the risk.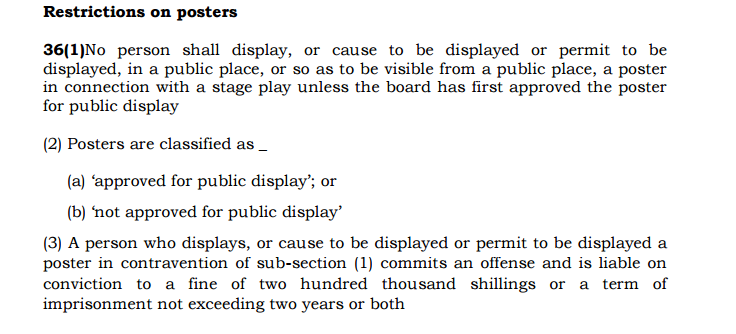 This doesn't make any sense at all.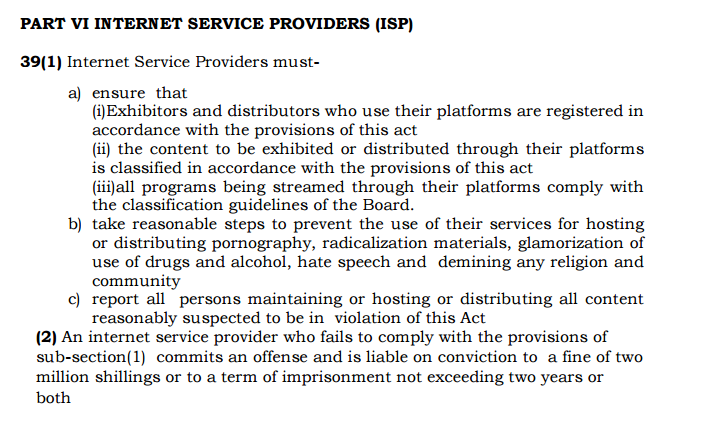 This is the height of censorship!! I believe that as an adult of sound mind one should be free to watch whatever they want without interference from the state. This can eventually lead to the blocking of sites that the state might not want you to visit. Are we living under a dictatorship???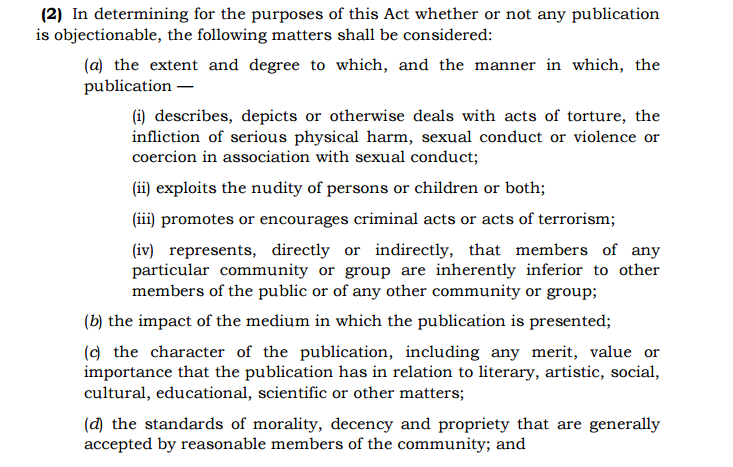 It is in this part that the government seeks to censor content both online and offline. This is dangerous as it attempts to take us back to the time during the Moi regime that the state used regulate what we read. It was at this time some of the books criticizing the government of the day were banned so you can expect the same and worse.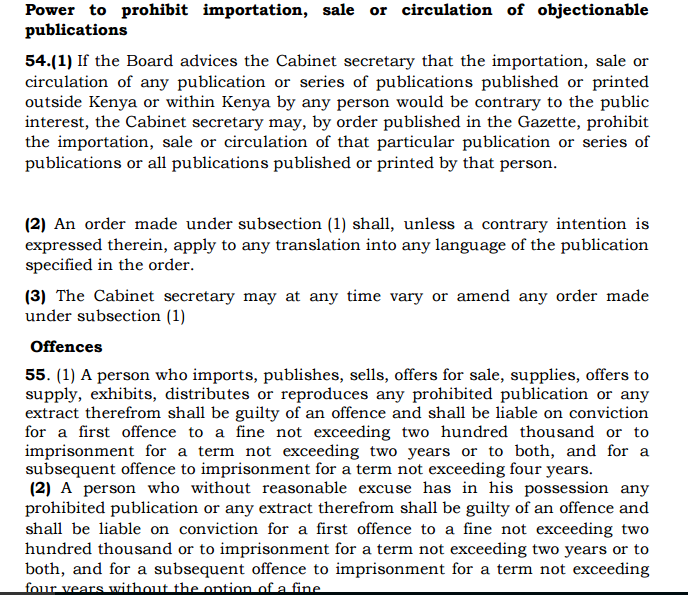 This is just outrageous. The simple fact is that if you want a subservient populace, it is best to ensure that they are not enlightened. What better way to ensure this than by policing what they read by invoking morality as if we cannot make our own decisions as adults.
In short this is a blatant attempt to censor all forms of media something that this government has been itching to do for a long time. If passed as it is, it will sound a death knell to the creative industry hence there is a need for all creatives to come together to fight against it. Actually every Kenyan should come out and fight against the passage of this bill as it will affect you in one way or the other given the fact that they also want to regulate the online space. Also you can bid good bye to the investigative documentaries done by the likes of John Namu and Mohammed Ali as KFCB will never allow such.
If you can, make a point to attend a meeting to discuss how to stop the Film Bill which will be held at the Louis Leakey Auditorium at the National Museum from 8.30 am.
Meeting tomorrow, Tuesday the 11th of October, 8:30am at Louis Leakey auditorium at the National museums. Please show up, #StopTheFilmBill pic.twitter.com/FUces4fr8Q

— #BMUnBounded (@bonifacemwangi) October 10, 2016
Here are some of the reactions from Kenyans online in regards to the film bill;
Govt going after techies w/ #ICTBill and creatives w/ #StopTheFilmBill…but these young 'uns are not for corralling…let's see how it goes

— Ory Okolloh Mwangi (@kenyanpundit) October 10, 2016
Look at this nonsense. Kenya can not go back to where it was in 80s and 90s. Mutua must be stopped. #JubileeTheUntoldTruth#StopTheFilmBill pic.twitter.com/VrPSrMqQ6Q

— Hon Lee Makwiny™ (@leemakwiny) October 10, 2016
I suggest just one change to Cap 222. Repeal it. #StopTheFilmBill

— Dan Aceda – Inua (@danaceda) October 10, 2016
I don't understand why work so hard to destroy industries you don't help build, you over tax and reap generously from? #StopTheFilmBill

— Serah Mwihaki (@mwihakiwanjeri) October 10, 2016
Article 33 states that everyone has the right to freedom of expression. a) freedom of artistic creativity. #StopTheFilmBill

— TI-Kenya (@TIKenya) October 10, 2016
I will ask these great men one more time why the keep validating the KFCB @OleItumbi @ckfoot See Katiba below #StopTheFilmBill pic.twitter.com/KBPOoVaPuX

— Dan Aceda – Inua (@danaceda) October 10, 2016