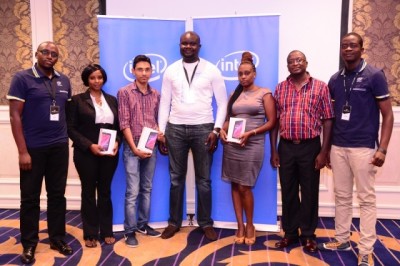 Out of the fourteen Kenyan apps that participated in the Intel App Elite challenge, three finalists will be receiving KShs 450,000 each from Intel. The money will be used to help the apps get more users, additionally, they will also receive professional help in assisting them provide better experiences for their users.
The apps were chosen based on the amount of effort the developers put into the apps. Intel also advocated for natively written apps because while they require more effort from the developer; they perform better and mobile devices do better computation while running the apps.
"Native applications lead to better customer satisfaction from those downloading them. Happy users are more likely to recommend the applications to their friends or to rate the applications higher, leading to more downloads for the developer. Intel realizes that it's not enough for a developer to just build their application, but optimizing their application for usability highly impacts on their chances of success. "said Agatha Gikunda, Software Services Group Lead, Intel East Africa.
The three apps that will be receiving marketing investment from Intel are GoJimmyGo, JTL Faiba and Mobi Biashara.
GoJimmyGo is a mobile game where the user tries to evade a chasing dog. JTL Faiba is a customer service app that enables clients to interact with their service providers and make payments. Mobi Biashara is a mobile banking app targeting financial institutions providing depositing, withdrawing, loan management and share management for their clients.
Here is a list of the 14 apps that participated in the Intel App elite challenge;
1. KenyaBuzz Raha
2. Safaricom Daily Nation reader
3. Ticket sasa
4. Eve Woman
5. Ghafla Kenya
6. Mobi Biashara
7. KRA
8. Shoppers Delight
9. JTL Faiba
10. Ushahidi
11. GoJimmyGo
12. Haki
13. Translater
14. pesadroid