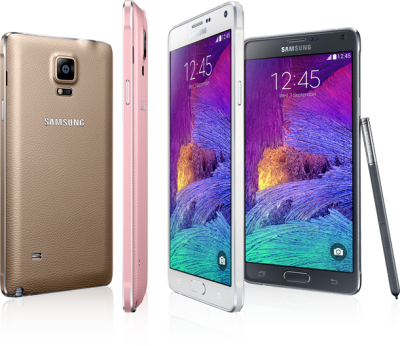 For year after the release of the first Galaxy Note, Samsung released the fourth generation of the phablet devices – The Samsung Galaxy Note 4. Praised as one of the best smartphones released this year, I was excited when it finally landed in Kenya and I would have a chance to review it. The Note 4 brings together big power, a big screen and big productivity compared to the other Samsung mobile devices released this year.
1. Size
The Samsung Galaxy Note 4 measures 153.5 x 78.6 x 8.5mm, almost the same as its predecessor and smaller in width and depth than the Galaxy Note 2, which is impressive considering this is the first of the Note series to sport a metal frame. The precise color saturation and the high contrast of 5.7" Quad HD Super AMOLED display makes it have one of the best displays in the market with great clarity and viewing experience.
2. Camera
You can shoot brighter and clearer images using Rear and Front camera. 3.7MP front-facing F1.9 lens camera, and a 16MP Smart OIS back camera providing you with the best results possible. One of the advantages of the Note 4 camera is the OIS (Optical Image Stabilization) which fights against camera shake, and also allows you to take better pictures in lower light by automatically extending exposure time.
3. S Pen
The S Pen enriches your writing by offering an improved digital handwriting experience through enhanced pressure sensitivity. For those who love scribbling on their tablets, this comes in handy.
4. Fast charging
Thanks to charging speed improvement, waiting times of Galaxy Note 4 have decreased significantly e.g you can go from zero to 50% in around 30 minutes. If in a hurry you can use the Ultra Power Saving mode.
5. Memory
The Note 4 comes with 3GB RAM and 32GB internal memory which is enough space to store your photos, videos, music and some. In an age where we are constantly taking and sharing photos via our mobile devices, large spaces come in handy.
In terms of performance the Note 4 is a powerful devices and this makes it have a wonderful user experience. I would definitely recommend you get one just in case you're looking for a phablet for either work or for regular use.