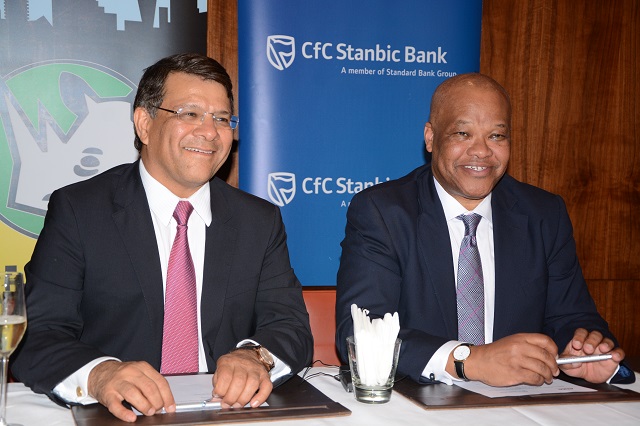 ARM Cement has secured a USD 50 million (Ksh. 4.5 billion) Revolving Credit Facility from CfC Stanbic Bank. The structured facility allows for repayments and redrawing and was arranged and underwritten solely by CfC Stanbic's investment banking arm.
The signing of the facility agreement took place last night at the Capital Club in Westlands.
"We are very pleased to have finalised this facility. Now that our Tanga clinker plant is commissioned, ARM is well on its way to becoming East Africa's leading cement manufacturer, and part of the reason for this progress is the way we have been able to exploit the increasing sophistication of the financial sector. Over the last few years we have taken on board among others a corporate bond, an equity-linked note and a convertible bond, Throughout this period CfC Stanbic has been a key financing partner, both as a major banker and provider of innovative financing solutions, and we are delighted to have worked with them on this facility." said ARM's Managing Director, Pradeep Paunrana while commenting on the credit facility.
"The ARM transaction once again demonstrates our continuing commitment and ability to support our clients," added CfC Stanbic's John Ngumi. Mr. Ngumi went on to add that such customised financing solutions were increasingly what clients were demanding, especially in sectors such as the cement industry that require large financing amounts, and where conventional banking tools need supplementing with innovative structures.
ARM Cement was established in 1974 as a mineral, extraction and processing company and has been listed on the Nairobi Securities Exchange since 1997. Its primary business is now cement with ancillary businesses in industrial minerals, lime, fertiliser, sodium silicate and special building products. It currently has a market capitalisation of Ksh. 41 billion.