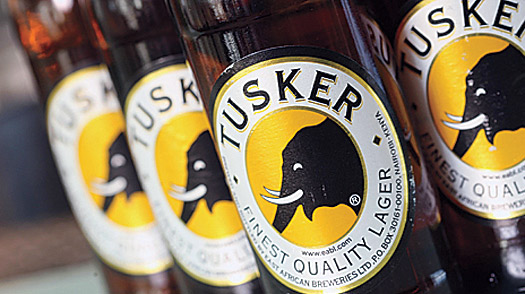 Tusker Lager is East African Breweries Limited's leading brand and is the most popular drink in Kenya with over 700,000 hectolitres being sold in the country per year. It is also the largest African beer brand in the Diageo group.
Here are a few reasons why you should be drinking this great beer.
1. Ugandans have the Nile Special, Rwandans have Primus beer, Eritrea has the Golden star, many countries have their national beers and Kenyans have Tusker. The beer whose slogan is "My Country, My beer", a national heritage.
2. The history. Tusker was first brewed on 15 December 1922. George Hurst, the company's founder, was killed in an elephant hunting accident and in his memory, his brother Charles decided to name the first beer brewed "Tusker".
3. From the start, Tusker was brewed from tropical equatorial barley grown at the base of Mount Kenya and watered by springs from the Aberdare mountain ranges. This gives the drink its unique, exquisite and authentic taste – crisp and refreshing, perfectly suited for hot African weather.
4. Tusker beer is a Gold award-winning product from the World Quality Selections, organized yearly by Monde Selection. The refreshing taste and the finest quality have always been highly appreciated at the prestigious Monde Selection's International Awards.
5. Tusker is the highest selling beer in East Africa.
6. On a hot sunny afternoon nothing tastes better than a cold tusker. Plus it goes well with nyama choma thus making it a great addition for your barbeques.
7. Tusker is the first East African beer brand – and possibly the first on the African continent to reach the North Pole, courtesy of a group of people on an expedition led by Peter Goss. The group also planted the Tusker Lager flag!
8. One of the most iconic adverts in the country is for your truly, Tusker.
9. Tusker stands for authenticity, pride and togetherness – values that all Tusker brands have in common.
10. At 4.2 percent ABV, it is suitable for long social sessions with friends.