By Bridget Mutua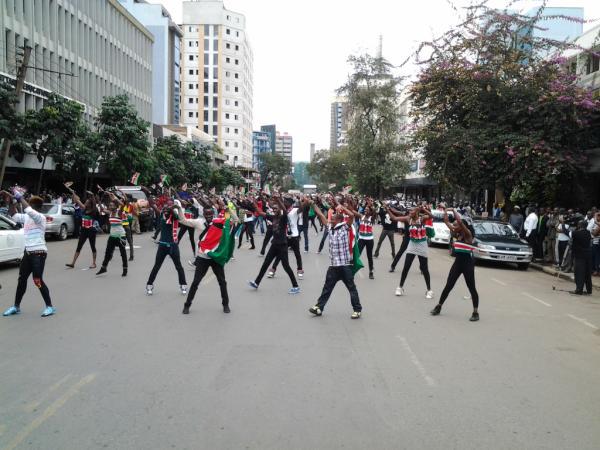 On Friday July 23rd , DStv Kenya launched a great initiative to support our very own Kenyan athletes at the London 2012 Olympics and our last remaining contestant left in the big brother house dubbed support team Kenya (#SupportteamKenya on twitter). The idea was record a flash mob dancing to nameless' song coming home, it is a beautiful song that really does embody the Kenyan spirit, and upload it on youtube [Watch it below]. The idea was and is to get the video to go viral, which it has as it's now at 72,000+ views, and to show the world our united front and support for our very own.
I had a chance to sit and talk to the man behind the song that the guys in the flash mob were dancing to i.e. Nameless.
How does it feel to be a part of DStv's team Kenya initiative and have your song be used?
Nameless: I am very proud to be a part of this. When I was approached by super sport, they'd seen my song some time back showing support for the local Kenyan teams out there. For me when I was writing the song, I was writing it imagining how our sportsmen out there feel a lot of pressure. Coz even I, when I go out on tour and represent Kenya, I feel a lot of pressure, like the country is on my shoulders and I don't want to let them down. For me, when I was doing this song, I was trying to let them know that we're behind them and we understand their pressure but you do your best. When they approached me, I was very happy and the flash mob idea was a great idea, let guys on thestreet just come and dance to it and show Kenyans out there that we're behind them. I think it was brilliant and we're gonna see alotof guys into it and into the story of supporting our guys whatever the case, good or bad, we just support because we must realise they go through a lot of pressure when they are out there.
Will you open a twitter account to support team Kenya?
Nameless: the most I could do is facebook. I'm not really good at sharing what's going on in. I'm really bad actually with that but many people have been telling me that I need to get on twitter and stuff like that and I guess I will but I'mnot good in saying what's happening every minute of my day, because on twitter you have to be really committed. I'm an introvert, as much as I perform and all that, sharing what I'm going through is not that easy. There's also the issue of being known. There's a mixture of things. A couple of things have happened that have discouraged me also. Like saying too much of what's happening in my life because people get to know too much and there are those who maybe don't have good intentions.
How about paying someone to run your account for you?
Nameless: I thought about that but only worry about that is that they might say things that are not really me. I want to be the one sharing whatever it is.
Is photography your hobby? (There was a professional looking camera on the table next to him)
Nameless: No, photography isn't. I like directing but this time I couldn't really direct. There were guys who were doing it and this was a bit harder. It's a bit hard to direct a flash mob because you get one take. You can't stop it and say, ok, you didn't do this right. You have to do it in rehearsal and then you tell them now its do or die. You know when you're supposed to come. Someone may be far away, just tell to them come at this time. So, it's a challenge but they did it well, they came in at the right time *laughs*
Will you have another flash mob for the opening ceremony?
Nameless: I think most people will want to do it bigger. Much bigger and in a better space.
Will you be traveling to London to support our team or will you do it from home?
Nameless: No, unfortunately not. But I will be with them in spirit, supporting them courtesy of super sport
When will your next album be coming out?
Nameless: album, not yet but I just released a single, it's called usiniache and avideo will be coming out in mid-August. I am working on a compilation album though so be on the lookout.
What's your next project that Kenyans should be on the lookout for?
Nameless: Actually it's two. The first is called Kenya1. It's a peace initiative with entertainers coming together to bring out a message of peace, this being an election year, we don't want a recurrence of '07/'08. I am also working with Miss Koch, Miss Korogocho. It's an education initiative in the Korogocho slums. It's aimed at offering scholarships to the kids who do well in their KCPE exams but cannot afford to go to high school. We hope it will serve as a motivation to other young people to work hard as well. There will be a dinner at the carnivore put together by Miss Koch on the 2nd of August. Charges are 5000 per person and 50,000 for a co-operate table of 10.
That concluded my interview with Nameless.
I also got a chance to sit down with this year's representatives and recent evictees from big brother Africa, Alex and Malonza and ask them a few questions.
Tell me about yourselves.
Malonza: I am a fun loving guy, adventurous. I like to try new things and I'm that cool chilled out guy. I love excitement.
Alex: for me, you guys saw it in the house. I get along with everyone, I'm a chilled out guy. I have no beef with people and I like meting other people.
Why did you decide to try for big brother?
Malonza: for me, I wanted to push myself. I wanted to see what my limits are and just to have that once in a lifetime experience you cannot get anywhere else and that excited me.
Alex: the truth is that it's because my brother convinced me. First of all I didn't want this, I was like this is big brother, it's a lot of exposure, privacy is over and done with so my brother is the one who made me feel like I can do the big brother show.
Did you get what you were looking for?
Malonza: yeah. Yeah. The money… I did.
Did you get along with Prezzo (Jackson Makini)?
Malonza: yes, I did get along with Prezzo. We did talk we used to catch up on the 254. The first week it was crazy. I remember him telling me, "I was waiting for you guys".
Are you rooting for him?
Malonza: For the celebs, yes, I'm rooting for Prezzo
Alex: I'll be happy when Kenya wins, that's ok. No hard feelings. It's just a game and people have to understand and that people make connections in the house.
Speaking of which, do you still keep in touch with any of the housemates?
Alex: the funny thing that, by the way even though it's a game, you guys have to be friends. I keep in touch with Talia, Tamara, everyone… connected.
Malonza: definitely, I have people I'm keeping in touch with. From down Ville, we became more than just the drama and we created bonds. So yeah, like for example, Junia, Tamara.
What's next for you?
Malonza: I might try radio and at the same time do business. I believe in self-employment, so entrepreneurship.
Alex: Start a business. I hope I'll make it.
What's the one thing you've not been asked that you wish people would ask you?
Alex: what I'd like people to ask me is why they didn't find it funny when I complemented Goldie's eye lashes.
Malonza: Can I cook, that's what I want to be asked. Yes, I can cook. I never really did cook in the house. I just take my time.
How did you get involved with the flash mob? Were you guys in there dancing?
Alex: it was actually crazy, it's a good cause but they have their own team.
Will you guys be supporting team Kenya in the Olympics? Big brother?
Alex: of course, we have to support Kenya.