Liquid Telecom has launched a direct land-based fibre optic cable connecting East to West Africa via the Democratic Republic of Congo (DRC).
This coast-to-coast fibre cable follows the completion of Liquid Telecom's new high-capacity fibre link running 2,600-kilometre (km) across the Democratic Republic of Congo (DRC).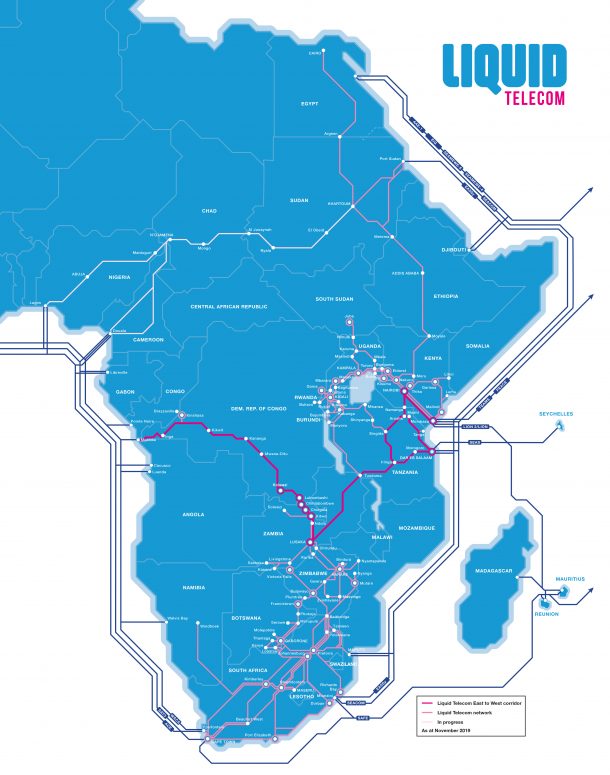 Until recently, no direct land-based fibre network existed between East and West Africa. Network traffic between Kinshasa in the DRC and Dar es Salaam in Tanzania, for example, was routed via London. Liquid Telecom's East to West fibre link will provide reduced latency between major continents via Africa. It will also meet the growing demand from global enterprises for fast, reliable, high-capacity and cost-effective communication across the southern hemisphere.
"Liquid Telecom has connected East to West Africa with the most direct digital corridor across the southern hemisphere. We have set a new benchmark and achieved a historic milestone in our vision to create a more connected Africa," said Nic Rudnick, Group CEO, Liquid Telecom. "By linking the DRC to Liquid Telecom's rapidly expanding pan-African fibre network and the rest of the world, this transformative infrastructure is creating a foundation for digital growth. Fast, reliable broadband connectivity will advance society, fuel innovation and help champion pan-Africa trade."
Liquid Telecom's fibre expansion connects the company's network on the Atlantic coast at Muanda in the DRC, via Liquid Telecom's international subsea cable partners. It then runs directly East to Kinshasa and through the DRC onto Lubumbashi in the South, connecting with other cities in between, including Kikwit, Kananga and Kolwezi. The link then crosses the DRC border into Zambia, integrating there with Liquid Telecom's existing and rapidly expanding pan-African terrestrial fibre network.
Liquid Telecom is a communications solutions provider across 13 countries primarily in Eastern, Southern and South Africa that serves mobile operators, carriers, enterprise, media and content companies and retail customers with high-speed, reliable connectivity, hosting and co-location and digital services. It has built Africa's largest fibre network, approaching 70,000km, and operates data centres in Johannesburg, Cape Town and Nairobi, with a combined potential 19,000 square metres of rack space and 78 MW of power. This is in addition to offering leading cloud-based services, such as Microsoft Office365 and Microsoft Azure across their fibre footprint.