Official statement regarding website erasure and Enkare Review
On June 8th 2018, the Enkare Review Collective (13 person team named below), lost access to its platform. The password was changed, and eventually, the entire website deleted. Select parts of the site were then restored on the evening of June 9th and our official Twitter handle @EnkareReview replaced by a fake one @EnkareReview_. The masthead page listed one editor: Troy Onyango.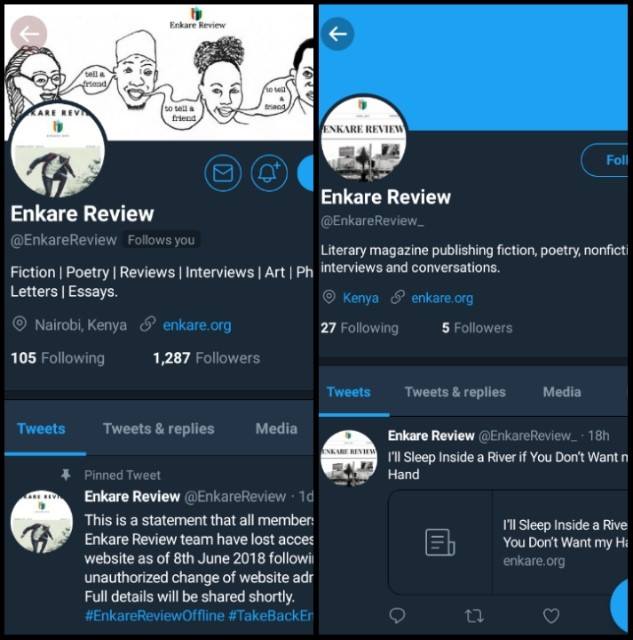 This is not the first time that our site was stolen in this manner. And in fact, it is not the site password or a Twitter handle that is at stake here. What this hijacker has done is to erase years of work. Years of care and thoughtfulness. Years of curation, creation. Years of community. This person has taken our audacious, expansive dream and perverted it. What is at stake here is a dynamic archive of over a hundred contributions from across this continent. What is at stake are the networks of care, and critique, and creativity that we have been strengthening, establishing with all the other platforms doing this necessary work together with us. What this malicious act has put in jeopardy is the integrity and resilience of our literary ecosystems. Here is an account of events.
The story could start in July 2016 when a group of 7 came together to found Enkare Review: Bryan Gichia; Peter Ngila; Roseline Olang'; Carey Baraka; Alexis Teyie; Troy Onyango; and one additional person. It could start with those early days fumbling about to build something worthwhile, but frankly, Enkare Review – the Collective – truly began almost exactly a year later.
This account of events begins on July 25th 2017. After a series of disagreements for months prior, we had come to a crossroads. A majority of the team was prepared to leave to avoid further discontent. Eventually, Troy Onyango – who was on the founding team – communicated that he would leave the team. On the said date, Troy Onyango wrote an email to the person responsible for running our Enkare Review website enkare.org informing him that he was "no longer in the Enkare Review system" and that "As such, if there is a request from the members of the team for a password reset, kindly oblige. I am not allowed access to the said logins. Enkare Review is now the client and not me. Any emails about Enkare Review should be directed to info@enkare.org. All the payments will be made to you by the Finance person at Enkare Review." See below.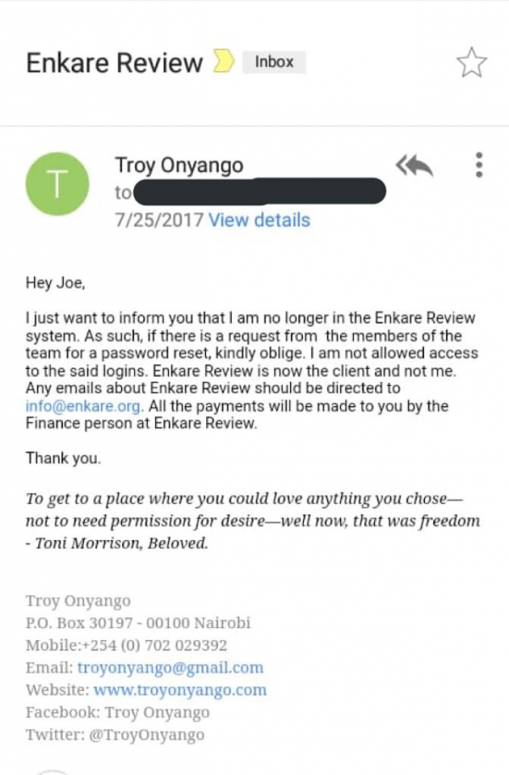 A few days after this date, we at Enkare Review learned that Troy Onyango had been slated to represent Enkare Review at the Writivism festival in Kampala, Uganda. There had been no direct communication between Enkare Review as a collective and Writivism. What appeared to have happened was communication between Troy Onyango and the Writivism group. We let this be as we then believed that even while not being on board, Troy Onyango had good intentions for Enkare Review and that he would represent the spirit of Enkare Review in the best way he could. It is in this same spirit that when Writivism reached out to us to publish the Koffi Addo Nonfiction Prize essays, we agreed to do so despite not having been in communication with Writivism about the said essays; Troy appears to have made this arrangement before he left.
Later on, in the week approaching February 11th 2018, the date we were to launch our Enkare Review Issue II, we realised that there had been a breach on our website. There were changes to our normal formats and some data that went missing. Then, we thought that this had been a "malfunction" and set about undoing the damage and still put out the Issue on the promised date. We missed the deadline by a few minutes because of this. Now, we know that we had made a blunder in our judgement. There had been another person who was not a member of Enkare Review at that time who had made those changes. Our other mistake was not conducting a full audit of our website to determine what had happened exactly.
In the last week of May 2018, we noted that we'd been slated to appear on a panel at Africa Writes festival in London. There had been no communication between Africa Writes and Enkare Review concerning this, or any other matter before. Carey Baraka, an editor at Enkare Review, reached out to Africa Writes via Twitter Direct Message and asked about this. He was informed that Africa Writes had been in communication with Troy. It seemed to us that Troy Onyango wanted to gain mileage from Enkare Review without being on board. Whether this amounted to committing fraud or not we shall leave to legal experts and lawyers, Troy Onyango's career in this case. When the Africa Writes contact person got in touch with us via email, she informed us that she'd contacted Troy Onyango and that Troy would be getting in touch with us. Our response was a categorical no. We did not see any reason to engage Troy Onyango as he was not a member of Enkare Review anymore.
Less than a week after this back and forth — which we assumed was resolved— we discovered no one on our team could log into our website; it was "under construction." Soon after, it was completely blank, and the various actions described above were carried out.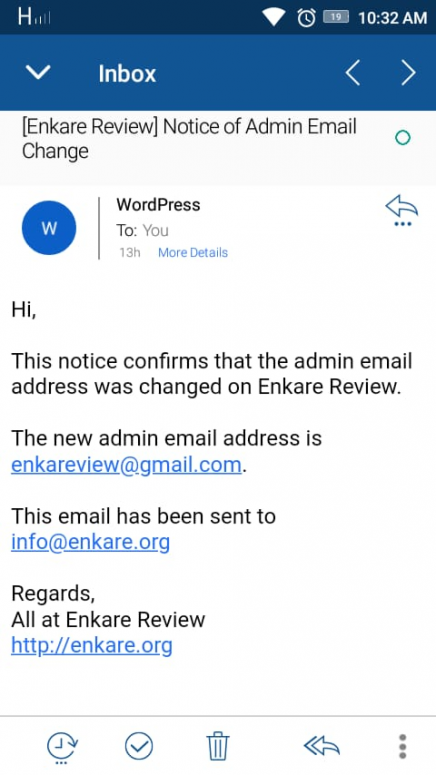 A few key points from us
1. A year ago, a founding editor left Enkare Review. He was not the first to leave. However, at least 3 former members had left our team specifically because of their engagements with him. When Mr. Onyango left, we re-structured our team; we scrapped the concept of 'managing editor' & adopted what we like to call a 'flat' or rhizomatic structure. We have finally been getting better at working as a collective.
2. This hijacking is antithetical to everything we stand for as Enkare Review: collaboration, openness, generosity and thoughtfulness. While the conflict to us seems unclear at this stage, weaponizing a public resource (which Enkare is), to make a point hardly seems productive. The hijacker felt entitled not only to the Enkare Review brand, but also to all the contributions that we curated in the full year he was not a part of the team. This orchestrated 'take over' is not only unwarranted, it is unethical. Enkare Review does not belong to the 13 members of our collective.
3. We apologize to all the wonderful contributors whose work has been erased from the site. Thank you for sharing your work with us. We do not take the responsibility lightly. Regardless of where the information will be housed, we will continued to care for and share your work.
4. As the Enkare Review Collective, we are often wary of an internet call-out culture because of the spirit it is sometimes done in. But in this space, this collective cyberspace, we can hold people accountable for their actions, their missteps, invite a teaching but also consequences for deep harm caused to communities we build. In openly discussing this, we understand that there will be consequences, but calling this to attention is not out of malice, but rather, it is a responsibility. It is unacceptable to treat people in a certain way, and when it happens we must convene, and say Oya, here you didn't do right.
We cannot speak to the reasoning behind Mr. Onyango's actions. But we will not be silent. We will not be terrorized. We will not have the wonderful work that we have been custodians of be erased and undermined. This is was not simply a vindictive attack on the individuals of Enkare Review – this is a deliberate action robbing our collective of the work that went into building our community, and more importantly, it is a selfish act geared towards privileging one individual over the network we have spent so much energy prioritizing.
We recently put out our Inclusivity call, and asked people to submit their thoughts on what their ideal art spaces look like. Their ideal literary spaces. Their ideal spaces of all kind. That this is happening to us at this time is a reminder that conversations about Inclusivity have to be had, and that we need to move away from individuals who seek to push down, and destroy the work of people in these spaces.
Here are some of the ways you can support Enkare Review
1. Report the fake Twitter account (@EnkareReview_)
2. Check for your favourite works on the currently hijacked Enkare Review site. If they are missing, share a screenshot, tagging the creator, and use the hashtags: #EnkareReviewOffline #TakeBackEnkareReview
3.Tag all your favourite literary and art spaces on Twitter & let them know that our site has been taken down.
***
Enkare Review Collective Team
1. Roseline Olang' – @RosieOlang
2. Sanya Noel – @SagnaNoel
3. Lydia Kasese – @Ms_Lilly_Py
4. Bethuel Muthee (BM) – @b_musings
5. Leah Kanda – @Canduh
6. Elijah Koome – @elijah_koome
7. Wanini Kimemiah – @le_munchkine
8. Carey Baraka – @CareyBaraka
9. Dalle Abraham – @Dalle22
10. Florence Onyango – @FloOnyango
11. Basit Jamiu – @IamBasitt
12. Imeldah Kondo
13. Alexis Teyie – @alexteyie