I would describe myself as a fickle jazz fan, or rather, a fickle fan of anything really.  By this I mean I have phases during which I immerse myself almost obsessively in a particular genre, accumulate a collection of records on my phone and then just like that, the interest disappears, as abruptly as it came.
I went through a jazz phase, shortly after the Hugh Masekela concert in 2016. It was my first jazz concert and I remember being completely mesmerized by Kasiva Mutua, the jazz covers of local hits by Nairobi Horns Project and Masekela's performance which had only one problem, that it had to end. The weeks that followed found me listening to old funk records, I had Gary B.B Coleman and Fela Kuti on loop. I went through another jazz phase recently, this time falling into Manu Dibango, Soul Jazz Ochestra, rediscovering some of my funk favorites and being hopelessly into the modern crossover styles of the genre, like some of the music of Masego's 'Pink Polo' EP, FKJ and locally, Fvzzkill whose debut album, 'Plastic Life' has been the soundtrack to my days. So that was the space I was in when I attended Safaricom Jazz this weekend. I was stuck in the in-between of 'dancy' jazz and slow jazz fused with the deep bass of an 808 and lo-fi hip-hop.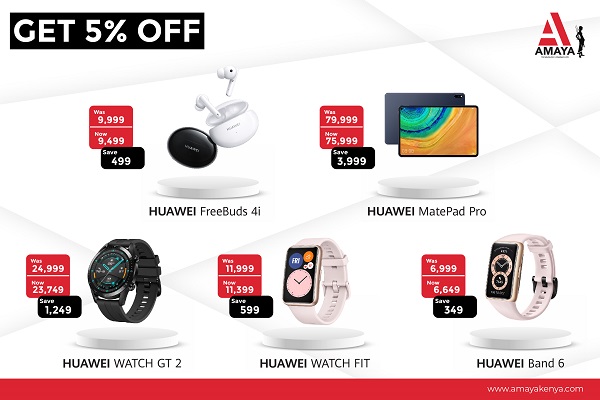 My friends and I arrived a little late, we caught the last bus from KICC to Kasarani Stadium. The organizers of Safaricom Jazz were gracious enough to ferry people to and from town, because there was no surviving that heat on a Sunday afternoon. When I got to the venue, the first thing that caught my eye was the huge #SafaricomJazzat5 mount at the entrance. It provided a good photo op for my friends and I.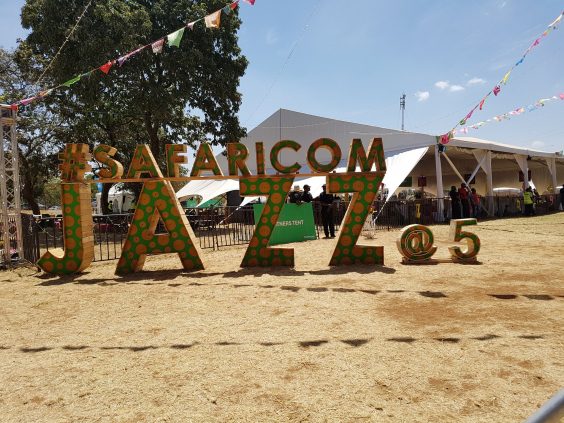 I'll go into the activities before I delve into the music. There was the Safaricom Platinum tent where you had the chance to win a manicure or pedicure, airtime an electric massage among other things. I won an electric massage but I was quite jealous of my friends who got to have their nails and feet done. The Songa tent had an open bar. You got to pick a drink of your choice on Safaricom's bill. The venue was big so it didn't feel crowded despite the numbers. The security at the entrance and on the grounds were very thorough in their checks, polite and ready to help if you had any safety concerns.
The food didn't cost an arm and a leg which was a relief so there was plenty for one to chow down on depending on your budget. Of course, there was also the option of bringing your own food and drink provided they were sealed. It was an all round event with plenty of activities to keep the family entertained ranging from horse and camel rides, bouncing castles and bubble football.
Now for the music.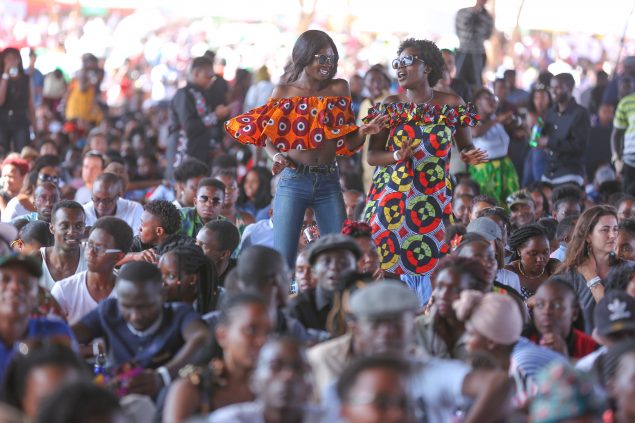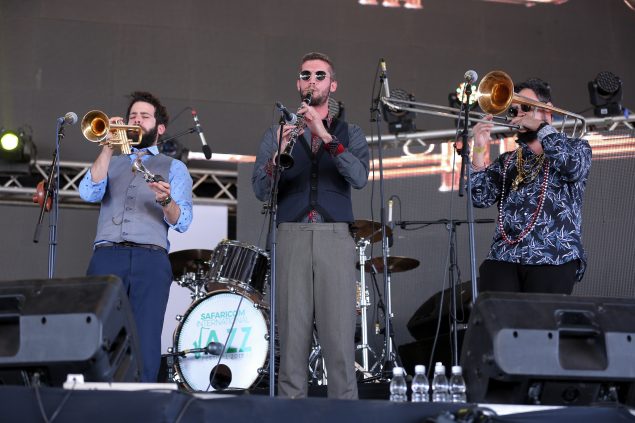 I moved nearer the main stage in the late afternoon when the music picked up tempo. Mambo Rick's fusion of coastal beats with jazz was really fun and set the stage for an evening of dancing. My favorite performance was from Jojo Wendt, the highlight of his set being the jazz rendition of 'flight of the bumblebee', which is considered one of the most difficult pieces of music. The headliners, Braun-Whalum-Brown (BWB) got on stage at about 7pm and performed until 9pm. They did a lot of pop classic renditions like Micheal Jackson's 'Billy Jean' and pieces from the 'The Bodyguard' movie which they helped to score. Femme fusion and the Limericks also gave killer performances. To cap the show was an amazing fireworks display which I thoroughly enjoyed.
My take away from the concert is that jazz is a very broad genre and its difficult to define its sound, if the performances are anything to go by. It's a chaotic genre in the most beautiful way because it gives room to experimentation and the Safaricom jazz was a feast for the ears and a glimpse of just how far jazz can spread its roots to create varied takes on the genre.