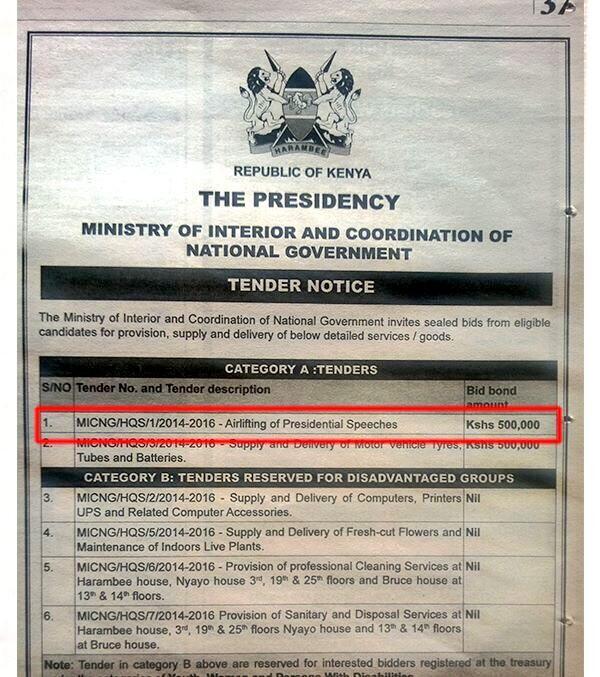 It's the norm when there is a National public holiday (like the past Madaraka Day), when the president is giving a speech, for the same speech to be read out in different parts of the country by central government representatives. It has also been the norm for a hard copy of the same speech to be airlifted to the different counties. The presidential speeches airlifting made sense in the 80's and 90's as this was the fastest way to deliver them. You wouldn't expect this sort of thing to be happening in 2014 but alas, it is.
The Ministry of Interior and Coordination of National Government in today's paper floated a tender for among others the "Airlifting of presidential speeches". The bid bond for the tender was indicated as Kshs. 500,000 which means that the total tender price for the company that eventually wins the tender could be in the millions especially taking into account that the speeches are airlifted all around the country. So the question everyone has been asking is; why is a supposed digital government still airlifting bits of paper in this day and age when there are better and faster methods of doing so like email?
Below is what Kenyans on social media had to say about the airlifting of presidential speeches.
Update
Dennis Itumbi, the Director for Digital, New Media and Diaspora Affairs has weighed in on the matter on Twitter
OPINION: I hold the strong opinion that in a digital age we have no business flying speeches. Jubilee believes in the digital space

— Dennis Itumbi (@OleItumbi) June 4, 2014
For now the speeches have to be flown since we have no alternative, but equal creativity will be invested in developing a secure portal

— Dennis Itumbi (@OleItumbi) June 4, 2014
In my opinion, the secure GOK channel should not only sort speeches, but should also introduce a secure channel for virtual meetings

— Dennis Itumbi (@OleItumbi) June 4, 2014