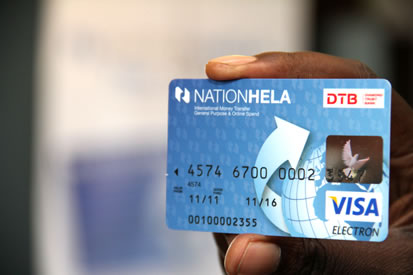 What is NationHela?
Launched in August last year, NationHela is both an international money transfer service and a prepaid debit Visa card by the Nation Media Group in partnership with Diamond Trust Bank (DTB). NationHela was initially set up to tap into diaspora remittances to Kenya but has since pivoted to also include payments since it's also a Visa card. With NationHela it is possible to send money in Kenya from any part of the world and also make payments, both online and offline.
Where to get the NationHela Card
You can apply for the NationHela card from DTB Bank and Nakumatt Supermarket branches all over the country. The cost of acquiring the card is Kshs. 500.

To apply for the card you will need a copy of your ID and you will be required to fill a registration form. After filling the registration, you will be helped to activate your card which is via USSD and so linked to your mobile phone number. Activate your card by dialing *348# from your mobile phone. You will then be prompted to send an SMS with your card pack ID and your card number. After the initial activation you will receive an SMS from NationHela confirming that your card has been successfully activated. The SMS also contains your internet password that you will use when transacting via the NationHela online platform.
You will then have to wait 72 hours for the card to be fully activated. It is unclear why it takes so long. The card is ready for use after this period.
Uses of NationHela
1. Kenyans in the diaspora can send money to Kenya from their debit card or credit card. to your family, friends and your relatives from your PayPal account, debit card or credit card.
2. NationHela users in Europe and Asia can send money to Kenya directly from their bank account.
3. You can use the NationHela card to make online payments.
4. You can use NationHela to pay for goods and services wherever there is a Visa in Kenya.
Have you used NationHela? Tell us your experience in the comments.