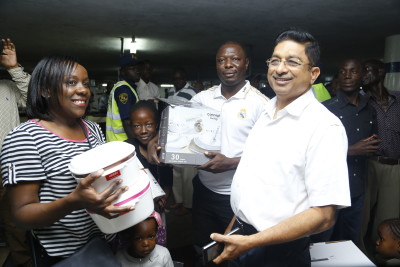 After the success of their clearance sale last weekend, Nakumatt Holdings has announced that its popular clearance "MEGA SALE" will resume on Friday in response to overwhelming extension requests from its customers.
The resumption of the clearance sale, now dubbed the Nakumatt "MEGA SALE" Reloaded, will allow the retailer's shoppers to enjoy discounts of up to 50% on a range of electronic appliances, home furnishings, toys, kitchenware among other products.
Speaking, when he confirmed the clearance sale resumption, Nakumatt Holdings, Managing Director, Atul Shah, said the "MEGA SALE" Reloaded, will run through to Sunday, exclusively at the retailer's, flagship branch-Nakumatt MEGA Hypermarket- along Uhuru Highway.
"At Nakumatt Holdings, we've heard you loud and clear, on the request to consider extending last weekend's MEGA SALE. Our suppliers and partners have also responded positively on this request and I am glad to confirm that the Nakumatt "MEGA SALE" RELOADED resumes this Friday through to Sunday, only at Nakumatt MEGA Hypermarket basement," Shah said.
And added: "Learning from the experiences last weekend and to guarantee your shopping comfort and convenience, entry shall strictly be on a first come, first served basis. Our security team, will also be on site to guide and ensure that an orderly queue system, is maintained."
A similar sale held last weekend, he disclosed, had been well received by thousands of Nakumatt shoppers and bargain hunters who thronged the branch eager to catch any of the products on offer at crazy price discounts.
During the sale last weekend, Nakumatt Holdings managed to offload more than 20 truckloads of assorted goods which were quickly snapped up by more than 5,000 shoppers.
The Nakumatt boss, also assured the retailer's upcountry customers that plans are also underway to evaluate the possibility of hosting such a clearance sale in Mombasa, Kisumu and Nanyuki among other regional towns in coming months.