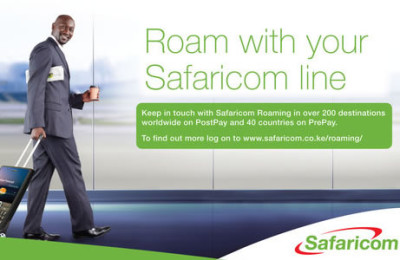 For quite some time now, many people were not comfortable with the roaming services being offered on Safaricom. The main issue was that the cost of services was too high. But these problems are coming to an end following successful negotiations with its global network of partners and regional governments, which will result in reductions in roaming rates for its subscribers.
The creation of a new roaming bundle will enable subscribers to enjoy reduced roaming charges in 21 countries located in North and Central Africa, Europe andNew Zealand. In addition, subscribers travelling to Rwanda and the United Arab Emirates shall enjoy reduced rates for calls made to Kenya.
"We always place the needs of our customers at the forefront of our business. We have aggressively lobbied countries and our partners to ensure our subscribers can enjoy the same reliable communication services they have come to know in Kenya when they travel at significantly reduced rates," said Bob Collymore, CEO Safaricom.
Following the signing of a new agreement with Vodafone affiliates, subscribers can access up to 10 minutes of voice services, 10 SMS, and 10MBs of data at a reduced cost of Kshs. 200.
Safaricom has secured the roaming agreements through its affiliates in Albania, Czech Republic, Germany, Greece, Hungary, Ireland, Italy, Malta, New Zealand, Portugal, Romania, Spain, Netherlands, Turkey, United Kingdom, Democratic Republic of Congo, Ghana, Lesotho, and Mozambique among other countries.
In practice, the development means that a subscriber who travels to Egypt will now pay just Kshs. 200 for ten minutes of conversation, down from the previous charges of over Sh900.
For subscribers who are travelling to the United Arab Emirates and roaming on Etisalat, calling rates have come down by 85%, while data customers will now pay Sh100 per MB, down from Kshs. 1,020 that was charged previously.
In order to enhance awareness of the new rates, Safaricom created a free tool that advises subscribers on roaming rates.
To access information on roaming, customers can simply dial *200# (for PostPay) or *100# (for PrePay), select "Products & Services" from the menu, "Safaricom Roaming", select "Roaming Tariffs and Tips" and then enter the Country Name to get details on Roaming Tariffs, available Roaming Services, Preferential Networks and Roaming Tips.