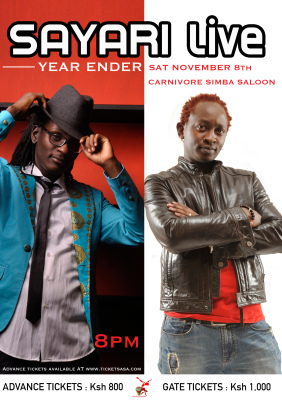 Sayari live brings you the 2014 Year ender edition featuring two of the best Eric Wainaina and Dan Aceda. The show starts at 8pm at the Carnivore Simba Saloon.
Dan Aceda is a Kenyan entrepreneur, architect, musician, and actor from Nairobi. Aceda has recorded and released two studio albums. Suluwe, his debut album was produced in 2005 by David Blackman Muthami and published by Kijiji Records while his second album "Benganology" was released in 2010.
Eric Wainaina is a Kenyan singer-songwriter whose career was launched with his debut album, Sawa Sawa, in 2001. Wainaina's music is a blend of Kenyan Benga rhythm and East African guitars, with some modern harmony.
It's set to be an evening of great music and dancing as Aceda and Eric are touted ot be among the best performers in the music industry. If you have no plans for the night, the Carnivore Simba Salooon is the place to be.
Advance tickets are available for only Ksh. 800 available on ticketsasa. Gate tickets will be sold at Kshs. 1000.