Day 6 of Capture Kenya for Team Amunga starts with a trip to Ndugamano to shoot the musician guy. He lives in Ndugamano but the plan is to shoot him at Giakanja where he is sure he'll attract a crowd which is important for the shoot. We pick him up and bring him to Giakanja. He sets up near some boda boda guys who seem to know him. They crowd around as he warms up and Amunga puts his gear together. With Maureen and Sam assisting, Amunga starts taking photos as the musician is doing his thing. Every time Amunga stop to look at the photos he has taken a crowd gathers around him to see them. Amunga shoots the musician from different angles as he positions Maureen and Sam who are holding the triggers. We get lots of shots and we are done. We take the musician back home and we are on our way.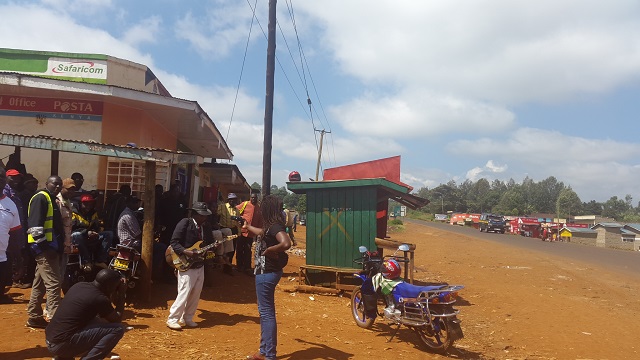 We take a detour to the Nyeri Museum which is a monument that is run by the National Museums of Kenya. It used to be a Native Court during the colonial period and it was set up in 1920 as a court for elders to settle disputes. The District commissioner, who was always white, would also be a part of it and would be the final word on all judgements. The court remained vacant for quite some time and it was even vandalized before the National Museums of Kenya took it over in 1997 & renovated it. The museum, apart from being a piece of history, is used for meetings and as a prayer room for Kikuyus who pray the traditional way facing Mount Kenya. There are some men praying for Uhuru Kenyatta and William Ruto as they prepare to go to ICC as their court case there continues. Amunga thinks the place is interesting but he doesn't think there are interesting shots we can take so we head out.
A Nation cameraman tells us about a museum not so far from where we are called Thunguma. It was opened in 1998 and they have a set where their share tit-bits about the Kikuyu culture and origins. The set has statues of Gikuyu, Mumbi and their daughters. What is shared is the history of the Kikuyu as the Kikuyus believed. Which is that the Kikuyus were created by God and placed in Gaturi in Muranga and then blessed with 10 daughters i.e. Waithera, Wambui, Wairimu, Wangari, Warigia/Wamuyu, Wangui, Wanjiru, Wanjiku, Wachera, Nyambura/Mwithaga/Wakiuru. The 10 girls represent the names of the 10 clans that the Kikuyu have. Thunguma Museum also has artefacts and live animals (Crocodiles, Tortoise and animals porcupine). They used to have more animals but they were eaten by a cheetah. Amunga wanted to shoot the caretaker of Thunguma Museum at the Kikuyu origins set but 1.) The light was all wrong and 2.) She was having none of that and she excused herself and disappeared. We decide to go have lunch and then head to Nyahururu.
On our way to Nyahururu we see some white cows on a ranch near the road and Amunga runs out to find our more about them. It turns out that that's the Solio Ranch and we are directed to the head office which isn't too far away. Solio Ranch is 45,000 acres and it was set up in 1960s. It has a game reserve, cattle ranch and lodge.
The world's first private rhino sanctuary, Solio Game Reserve was started in 1970 by the founder Courtland Parfet and it was the world's first private rhino sanctuary. Solio has a rhino breeding program that has been so successful that the ranch has stocked most game reserves in Kenya and all over Africa. Solio Ranch depends on cattle sales to keep it running and profitable. Among the cows they have are the Charolais Cows (i.e. the white cows we'd seen) and they are the main breeders of these cows in Kenya.
We shoot the Charolais Cows with one of their herders. With the light fading fast we shoot him with the cows in the background. The herder is on point, moving in every direction he is asked without complaint. The cows, especially the young ones, can't stay still. The other herders have a hard time controlling them and putting them in the shot. They stay still long enough to take a couple of shots and that's it.
Back in Nyeri, Kevin had taken the car for a bit of service. The mechanic must have fiddled with something he shouldn't because as soon as soon as we hit the road properly after Nyeri the car started vibrating. The problem is that the mechanic touched the propeller inappropriately. We stop in the middle of nowhere at an abandoned petrol station, ,that is now a makeshift car repair shop, for it to be sorted. It can't be fixed so we continue the journey with our vibrating car :-). We vibrate our way to Nyahururu safely. Tomorrow we head to Thompson Falls and Subukia. Wish us luck :-).