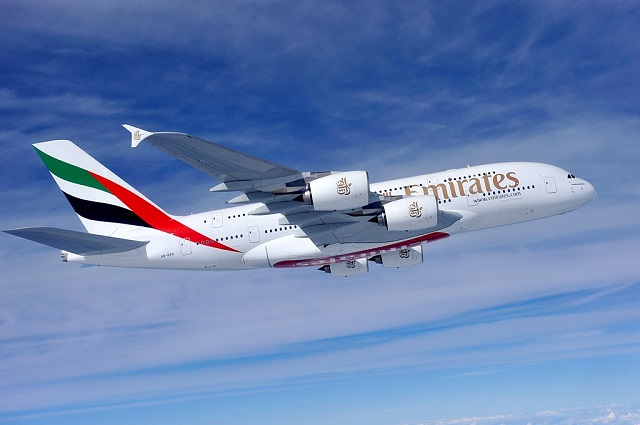 Emirates is offering Kenyan travellers up to 25 percent discount on Business Class and Economy Class fares to a range of exciting destinations around the world. The special fares will apply when booked between August 27th and September 6th 2014 for travel period starting August 27th until December 3rd 2014.
The rafts of savings mean that passengers can fly economy class, for example, form Nairobi to Dubai from as little as $564. Other destinations include Guangzhou from $984, Ahmedabad from $440, Mumbai from $452, Beijing from USD1239, Hong Kong from $977, Istanbul from $543, London Heathrow from $958, Washington DC from $1147 and New York from $1147.
All the above fares are inclusive of taxes, quoted on a return basis, with a minimum stay of three days and a maximum stay of one month. Blackout dates from 11-30 October 2014 apply for travel to Hong Kong and Guangzhou. Emirates is also offering discounted Business Class return fares from $1836 to Dubai, $2225 to Guangzhou, $1657 to Ahmedabad, $1669 to Mumbai, $3905to Beijing, $2218 to Hong Kong, $2145 to Istanbul, $2603 to London Heathrow, $3354 to Washington DC, and $3354 to New York City.
Announcing the new promotional fares, Emirates Country Manager for Kenya Anita Kongson said: "We would like to make it as easy and convenient as possible for our customers to spend precious time with family and friends, or to enjoy well-deserved and affordable vocational or business trips. These offers provide an opportunity to travel to a wide number of popular destinations at greatly discounted fares and we invite all our customers in Kenya to take advantage of these fantastic value-for-money deals."
"What's more, some of the destinations included in this offer, such as Bangkok, Mumbai, London, and Beijing, are serviced by Emirates' iconic A380 aircraft, which offers a unique travel experience," she added.