Zilper Christine Audi is a beacon of inspiration, passion and purpose something we do not come across too often. She has pushed herself to go for what she wants and she is willing to put in the work. Audi a serial hiker and she recently climbed Mt.Kilimanjaro to tick it off her bucket list also for a cause that is close to her heart. This is an initiative that seeks to empower young girls through education. She talked to me about her life, winning the Chevening scholarship and what she intends to do in the future. For those not in the know Chevening is the UK government's international awards scheme aimed at developing global leaders
1. You recently climbed Mt. Kilimanjaro, how was the experience?
Hiking Kilimanjaro was a mix of emotions from tears to laughter. It was tough and I nearly gave up. Yet, without a doubt, I must say that it was the best decision I made this year. This is after postponing my Kili climb for nearly two years. The route we took – Machame – was very scenic, and that made the climb more adventurous (and also bearable).
2. What other mountains have you climbed?
I have hiked Mt. Kenya, Mt. Longonot (3 times), Menengai as well as other serious hills like Elephant Hill in the Arbedares (3 times), Ngong Hills (3 times) and William Hill. These are usually my prep hikes for bigger climbs.
3. In comparison to other mountains how would you rate the Kilimanjaro experience?
The mount Kilimanjaro experience is incomparable to any other. Maybe because I haven't hiked taller and more serious mountains like Everest and K2 as such I cant make a perfect comparison.
Many people make the assumption that Kilimanjaro is an easy mountain to climb, but that is far from the truth. Walking for over 72km in 6-8 days in changing altitudes, with sore feet and diminishing energy is not a walk in the park.
4. Did you feel like giving up at some point?
Yes, of course! I wanted to give up every single hour. Every single day! I even started to question my decision to climb the mountain.
5. What kept you going?
Many people had doubted the fact that I could climb Kili – owing to the fact that it is a tough climb and that many people don't reach the summit. It can get so bad that some unlucky climbers even develop severe altitude sickness and die. This doubt that i wouldn't make it was my motivation, i wanted to prove them wrong.
However, my biggest motivation was the fact that I had carried with me a banner, which needed  to reach the summit at all costs. The banner had the message "Because Every Girl Deserves an Education #LetGirlsLearn".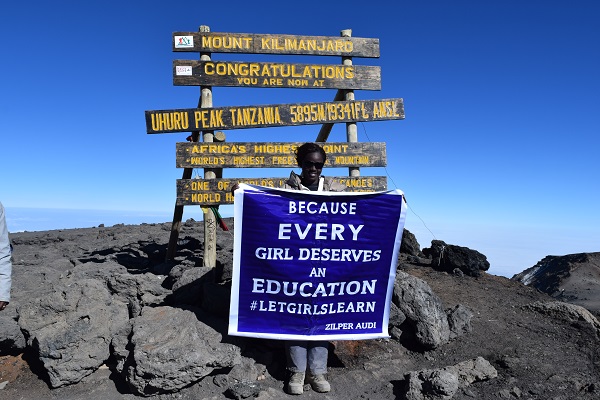 I have a passion for women empowerment and girl child education. And I needed this message to reach the roof of Africa – Uhuru Peak, that all girls deserve an education.
6. You have an initiative on empowering girls, what sparked the idea? (kindly provide the name for me and when you started it)
My initiative on girl child education was born after my YALI (Young African Leadership Initiative) fellowship. For a long time, I'd known that most of the young girls from my home district rarely went beyond primary school, and those who did, rarely completed high school. This is due to a number of challenges but it also gives birth to the never-ending cycle of poverty.
YALI helped me get out of my comfort zone and ask myself what I could do as an individual, to not only keep girls in school but also rehabilitate the drop-outs. This is a new initiative and it is still a work in progress. I will reveal more information when we set up the structure.
Thing is I don't believe in waiting for elected leaders to come and make a change. We all know how that always ends up.
7. Tell me about the progress you have made with the initiative.
I've roped in people from the Ministry of Education  based in Bondo district and we Are still working on the structure.
8. Congratulations on getting a fully paid Chevening scholarship. You intend to pursue a Master's degree in Public Policy. Why that specific area?
I understand the challenge facing policy making in Kenya – especially when it comes to the use of evidence to inform policy. I aspire to bridge the gap and straddle public policy and communication. I know I'd like to continue working as a Policy Communications professional. With the Masters degree, I will be better equipped and hope to do more policy analysis and research. I also hope to synthesize more policy research for policy audiences.
I'd also like to deepen my work at the micro-level in the devolved governments. In the future i would like to work for a county government, especially on matters revenue mobilization.
Some 20 years from now i would like to be working as a government policy adviser. I see myself being an integral person in Kenya's policy discussions. A position that would make use of my expertise.
9. The process of applying for the scholarship, let alone getting it is tedious. Tell me about that.
Getting scholarships is no child's play. Chevening Scholarship is even more rigorous. I know people who have missed this scholarship even after applying over 4 times. I got it on my first try. Though it was not by sheer luck, it was through hard work, sleepless nights and intense research but above all a lot of prayers!
This may sound weird, but I printed out the names of last year's Chevening Awardees, and kept it in my drawer. Every day, I'd say to myself: "I must be on that list come next year".
By the time applications opened, I'd already written my personal statements, Chevening requires thorough personal statements on leadership, networking experience, choice of course and university as well as a clear plan of action on return.
I submitted my application 2 weeks to the deadline and guess what, about a week to the deadline the site went down due to the high numbers of submissions.
My advise for anyone looking to get any scholarship, be ready to put in extra effort. That might just make the difference, basically If you need something very bad every challenge looks like an opportunity.
10. What does this opportunity mean for you?
This opportunity means that the baton has now been passed to me, to go get education at a top university and come back to be the kind of a transformative citizen and leader that Kenya and Africa badly needs.
11. Where were you working before the scholarship?
I worked as the Research uptake and Communications Manager, at the International Centre for Tax and Development (ICTD). This is based at the Institute of Development Studies at the University of Sussex in Brighton  UK (quite a mouthful).
12. What did that role entail?
As the Research Uptake and comms Manager, my work primarily involved translating tax and development research to our key audiences. This included policymakers, donors, NGOs, international development organisations in Africa, Latin America and South East Asia to ensure that tax policies in those developing countries are informed by rigorous research.
13. You are obviously very driven and determined, what is it drives you?
I don't come from a well off background, neither do I know anyone in those high offices. So I've always known that I have to work extra hard for any position. I don't fear trying, even if in my heart of hearts, I don't feel confident. I am a go-getter and I believe that my only limit can only be me.
I am also a born-again Christian, and my biggest driver remains God. And so far, He has been very faithful. And for that, I remain very grateful and humbled in equal measure.
14. What will you miss most about Kenya while you are away? (Yes you can mention Ugali)
I will miss my family and friends. Having worked for a UK-based organisation, I'd travel and be away for a week to three months maximum, but being away for one year is just a new one for me.
15. When done with the course, will you come back home?
Other than the public sector, I am also keen to continue working in international development  basically anywhere where I feel I will add value and make an impact.
16. Do you think the sector can be better? How?
I shy away from talking about this sector, as I've never worked there before.
17. Clever answer. You have hang your boots on hiking, are you sure it is not the painful muscles talking?
Every time a hiker is up on the mountain, they regret why they are there in the first place, but as soon as they reach the summit, they ask about the next hike. The adrenaline! The view from above! It is hard to hang the boots.
I'll hike a bit in Scotland, in the Alps and the Pyrenees (when still in Europe). However, I'm looking forward to climbing mount Kenya again using the Chogoria route, hopefully sometime next year or early 2018.
18. What book are you reading right now?
I've just finished reading Oprah Winfrey's "What I know for Sure". I am also few pages from completing Uzodinma Iweala's "Beasts of No Nation".
19. What message do you have for women in general?
As women, we have more strength and power than we actually imagine. If we stand together, to support each other, hold each other's hands and pull ourselves up instead of down, then no challenge that comes our way can be insurmountable.
We also need to know our worth. If we value ourselves highly, nobody would have the right/permission to undervalue us.
Yes, we can run the world! (full disclosure, I am a feminist!).