Few books manage to move you.
Weaving you in as you become a part of the characters' lives and world and long after the book is done, these people stay on haunting you with their stories.
On Black Sisters' Street does that. It grips you, puts you in its chokehold and doesn't let go until the last page.
It is a story of four women, Ama, Sisi, Efe and Joyce who despite having different lives are connected by a similar desire which is to try and erase their pasts. They all leave Nigeria for Belgium where they end up work as sex workers in order to pay off their debt to their pimp who is a man called  Dele.
The women share a flat living their lives oblivious to each other and reticent about their origins. However after the death of one of their own, their worlds collapse and having no one but each other, they begin to open up and share their stories.
We get sucked into the world of Ama who as a result of her abuse as a child by her step father is very short tempered. Joyce, regal and beautiful carries the scars of war.  Sisi who disillusioned by the promise of the rewards of a university education struggles to resolve the life she currently lives and the life her parents envisioned for her. Finally Efe who was cast into adulthood too soon is motivated to work for her son's upkeep.
Chike holds nothing back, delving into the abuse the women have suffered and its impact on their lives. Its is graphic in the descriptions of the injustices on these women's bodies and I was often moved to tears by some the scenes.
Chike humanizes sex work. The women's stories become personal and you realize that you are not too far removed from the circumstances that brought them to where they are now; sex workers in Brussels.
Too often we dismiss sex workers, estranging ourselves either deliberately or  without meaning to and never realizing that our Post Election Violence could have made us like Joyce, or a teenage fling turned us into Efe or the frustration on the job hunt into Sisi or have our innocence betrayed by a loved one turning us into Ama.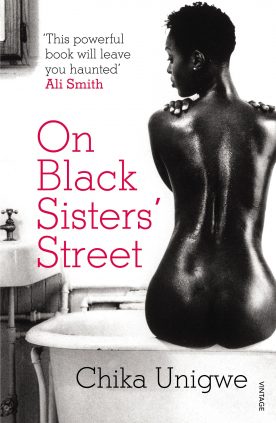 The men is this book are all caricatures. Inept in every way to take on their responsibilities. They are portrayed as greedy and constantly feeding off the female body. Hurting and destroying with such brazen callousness it made me want to rip them off the pages. While this often a fault, I think Chike's single faceted approach to male characters allows us to focus on the women stories with the men being catalysts. Their single role being to antagonize and move the story forward.
The dialogue is rich and while I struggled to understand the pidgin sometimes, I quickly caught on and in some scenes, it felt like I was watching a Nollywood movie scene.
It's definitely a book worth reading.