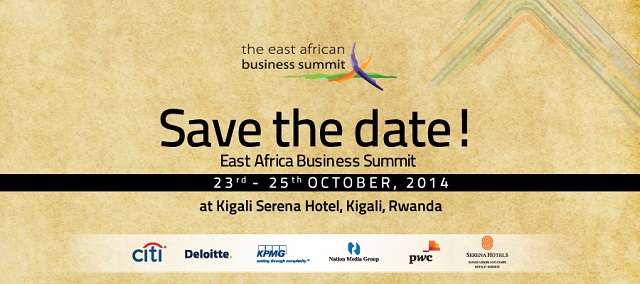 The 2014 East Africa Business Summit which was scheduled to take place between 4th – 6th June 2014 has been moved to October 23rd – 25th, 2014. Conveners of the two-day summit, titled Positioning East Africa for Inclusive Prosperity in 2020 and beyond, will bring together over 100 top Chief Executive Officers (CEOs), financiers and government representatives to address wide – ranging development issues affecting the region.
Numerous requests from delegates and sponsors to have the dates moved given the proximity of this year's summit to the recently concluded World Economic Forum in Nigeria where a good number of the target participants took part are behind the change of dates.
"We are committed to deliver a summit attended by captains of industries across East Africa while maintaining consistency on the schedule for the summit which will allow targeted delegates and sponsors to plan ahead for this integral summit that continues to outline significant focus areas for East Africa states to drive inclusive regional development", said Mr. Linus Gitahi, chairman of the Convenors' Committee
Over the years, the summit has delivered actionable outcomes. Deliberations at the summit have inspired and/or garnered critical support for major projects critical to an enabling economic environment in areas such as boosting connectivity, value-addition in agriculture, infrastructure, a technology city/Silicon Savannah and intra-regional trade.
"The Conveners of the summit believe the decision to move dates will also add impetus to the objectives, discussions and outcomes further building on this year's agenda that will focus on managing mineral wealth for broad-based and inclusive economic development, regional labour policies and practices for efficient business and investing in Africa's emerging entrepreneurs for inclusive prosperity among other pertinent areas of interest facing the East Africa region", added Mr. Gitahi.