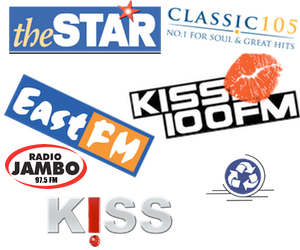 Times Media Group of South Africa has bought a 49% stake in Radio Africa Limited. The stake is valued at $18.62m (Ksh. 1.58 billion). The move by the media powerhouses is set to help settle debts that Radio Africa had acquired.
"It will be good for the company, for the staff and for the shareholders. In our view it is a win-win-win deal. No staff or managers will be laid off as a result of the deal. We will continue to run the business as before. The only difference will be that we will be much stronger financially," says RAL Group MD Patrick Quarcoo.
The acknowledged expertise of Radio Africa in electronic media and TMG's strength as the largest newspaper publisher in South Africa are set to act as a springboard to develop a powerful regional media business.

Radio Africa owns KissTv as well as s radio stations like Kiss FM, Classic FM, Radio Jambo, East FM and XFM. It also owns a majority shareholding in the Star newspaper. Times Media Group owns multiple newspaper titles including the Sunday Times (South Africa's largest newspaper), The Times, Business Day, and the Sowetan.
The acquisition of shares is not a new move from TMG. It has recently started acquiring radio stations in South Africa. Last year TMG acquired a TV network and five radio stations in Ghana. The shares of Times Media Group have gained 37% this year, compared with a 3.7% rise in the FTSE/JSE Africa All Share Index.
Image Via