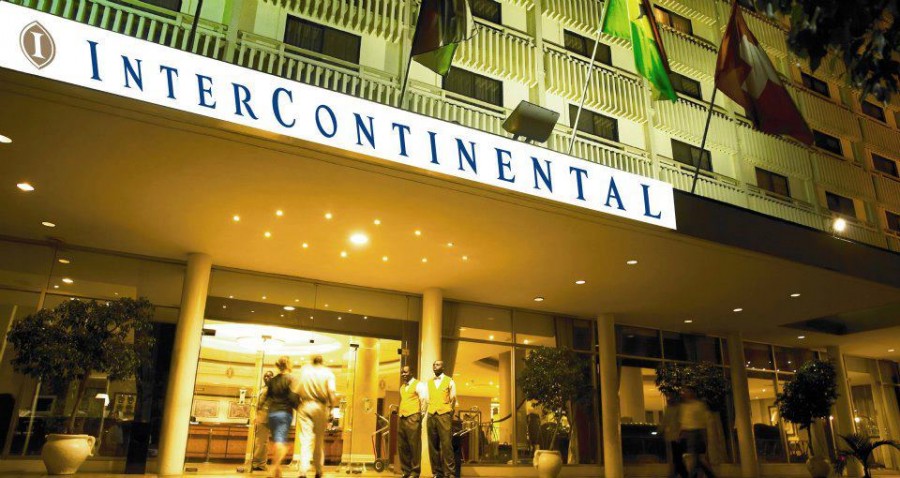 You will find the Terrace Restaurant adjacent to the outdoor pool at the Intercontinental Hotel Nairobi. It is swanky and cozy and you are bound to like it if you are looking for great meals served in an opulent setting. If tranquility is what you are after choose a seat by the large windows facing the pool, because the view will relax you and appeal to your craving for inner peace. There's room for you too if seclusion is your thing, or you can sit by the artifact displays by the walls and appeal to your inner love for art or culture.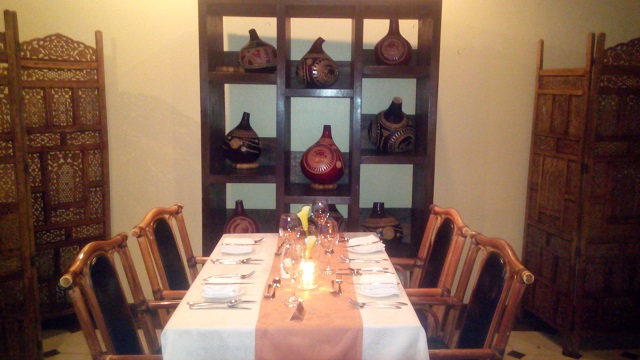 Terrace restaurant sits next to the Indian Bhandini restaurant which serves an extensive range of Indian delicacies. These two restaurants, in addition to the Plantation Café and the Makuti Bar comprise the eateries at the InterContinental Nairobi Hotel. A variety of foods and drinks are offered both on a la carte and buffet basis at the Terrace Restaurant. The buffet on Wednesdays and Fridays is majorly Kenyan themed although Italian cuisine is also incorporated on Friday. The Kenyan themed buffet incorporates foods like pasta that though not indigenously Kenyan, have been adopted over the years. European, Italian, Arabic and Indian cuisines also feature in some of the meals offered at the Terrace.
The Dining experience at the Terrace Restaurant is remarkable and my friend and I had a splendid evening with the Executive Chef, Simon. We dined on a Friday when the Buffet was Kenyan themed, as part of the celebration of 51 years since independence. For drinks, we went with the popular Mango Lassi (which I must say lived up to its fame), the Sweet Lassi and the Fruit Punch. The Lassi is a drink made from a blend of low fat yoghurt, sugar and/or fruit juices/pulp; it's more like a smoothie with an Indian touch.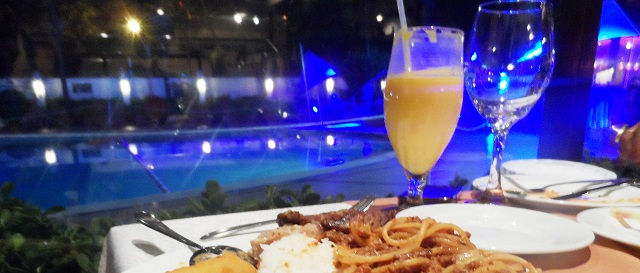 Walking through the various stations of the buffet, it was easy to know that great thought goes into preparing the meals, and that a lot is done to ensure that diners' whims are satisfied. At the soup station for instance, one could choose between a vegetarian and non vegetarian soup, both of different thickness. The cream of tomato basil soup was a thick, vegetable soup while the chicken and coriander soup (spicy broth) was thinner. We went with the latter which we loved and would recommend. It had just the right amount of spice even for diners who mind pepper.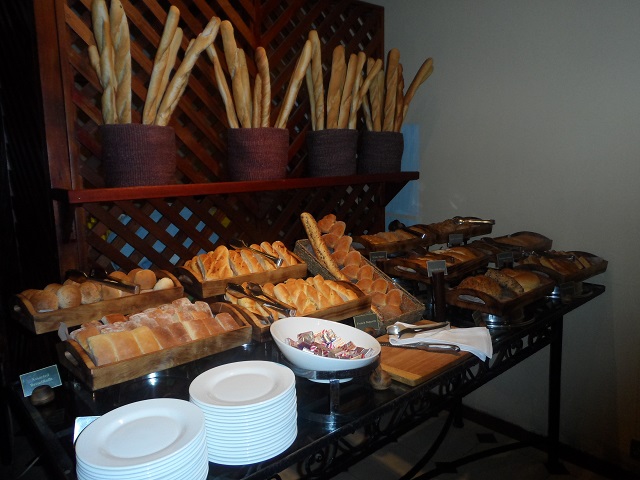 The bread station was on another level, with an assortment of bread of various tastes, shapes and sizes to suit your liking. Think of Sugar free rolls, Smoked Salmon Bread, Focacela Bread, Vegetable Bread, Assorted French Bread, French Baguette, White Multi Cereal Bread and Cheese Bread, just to name a few. Salad options were equally many and it was easy to choose all. We sampled the Roasted Chicken salad, Marinated Tilapia, celery with apples, carrot with grapes, Fennel with orange and Tomato Mozzarella, and left out a few including Grilled Calamari and red skin potatoes.
Unlike other buffet settings, the stews at the Terrace restaurant were presented in pots that were heating over jikos (charcoal stoves), in line with the Kenyan theme of the buffet. There was Matoke stew, Ndengu stew, Tripes (Matumbo) and chicken in coconut stew to go with Ugali, Roasted potatoes and a variety of Pasta with minced meat, tomato sauce and/ or vegetables. One could also choose red skin potatoes, Mini steaks, Roast Butternut with Cinnamon, Baby Marrow, Steamed French Beans, Mint salad, Roasted sweet potatoes. There was also barbeque beef and chicken and though the meats were great, the chicken deserved special thumbs up.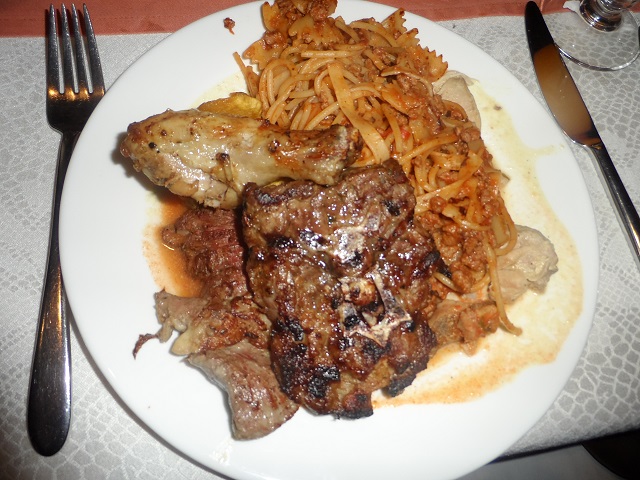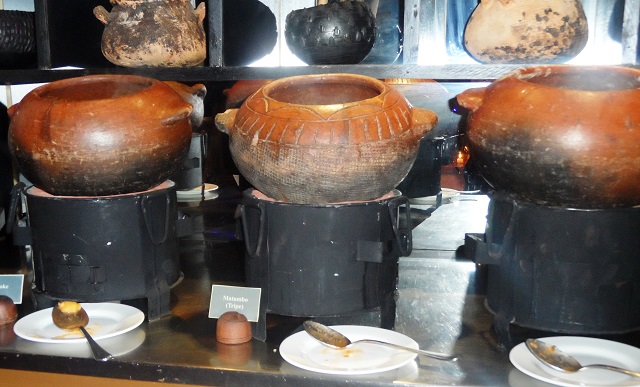 The dessert station was tantalizing and even if you only had small portions of other courses, it was hard to have much room left for dessert. The desserts were as delightful to the eyes as they were to the taste buds and we could not stop ourselves from sampling the white forest cake, banana cake, fruit tartlets, tiramisu and a variety of fruits. Chocolate éclairs, millefeuille and strawberry sauce also were also featured at the dessert station.
By the time we were done, it felt like we had been to food heaven yet the buffet only costs Kenya shillings 2600 per person.
If you are looking for value for money and great service then you should definitely try the Terrace Restaurant at Intercontinental Nairobi Hotel. Alternatively, you could go for Sunday Brunch every Sunday from 12-4pm and get a chance to test the heated pool waters, or enjoy drinks and BBQ specials at the Makuti Bar whilst watching live screening of the World Cup games.