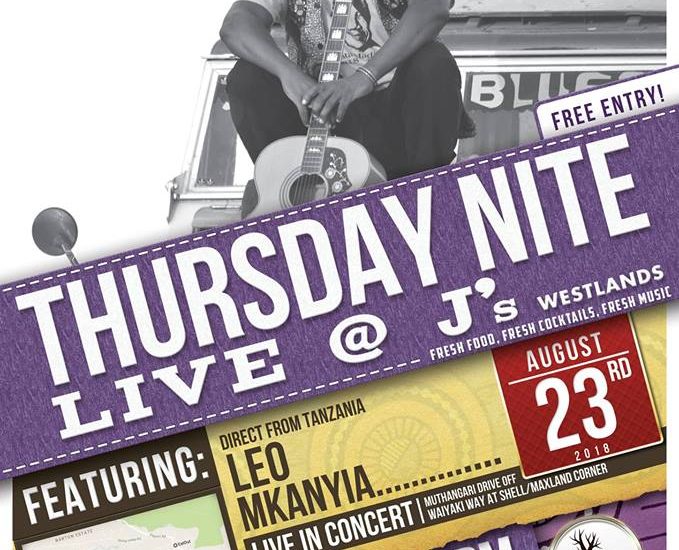 Thursday Nite Live is a weekly music extravaganza. On August 23rd it will feature Tanzanian Swahili Blues artist Leo Mkanyia.
Details
Location: J's Fresh Bar
Time: 8pm-11pm
Date: August 23
Artist Profile
Leo Mkanyia's style is called Swahili Blues, and it bridges the gap between old and new. The songs tell stories of history and culture, politics, migration, inequality, and love. They are throwbacks to the 70s and 80s with classic Tanzanian zilipendwa dansi sounds, and a contemporary twist; blues, and afrobeat. All are original representations of Tanzanian traditional blues, a genre which Leo is adamant must be preserved.
Leo was born in Dar es Salaam in 1981. Leo began playing the guitar when he was eight years old. His father is an African jazz guitarist who played with the renowned Mlimani Park Orchestra. Leo spent years playing his father's guitar when he was alone in the house and copying the chords, which he'd seen him play. Music doesn't pay in Tanzania, and so his father was adamant his son should follow another career. When he found Leo playing a classic Tanzanian song one day, he decided to give his son his wish, and taught him all that he knew. Today they play together – Leo leading his band and his father on solo guitar.
Leo has played at a number of music festivals – the London African Music Festival on the prestigious Southbank in 2011, SautizaBusara in Zanzibar in 2012 and 2015, and Bayimba International Art Festival in Uganda in 2013, and Doadoa Festival in 2015. He has performed in Ethiopia playing with the renknowned Ethiojazz pioneer Mulatu Astatke.