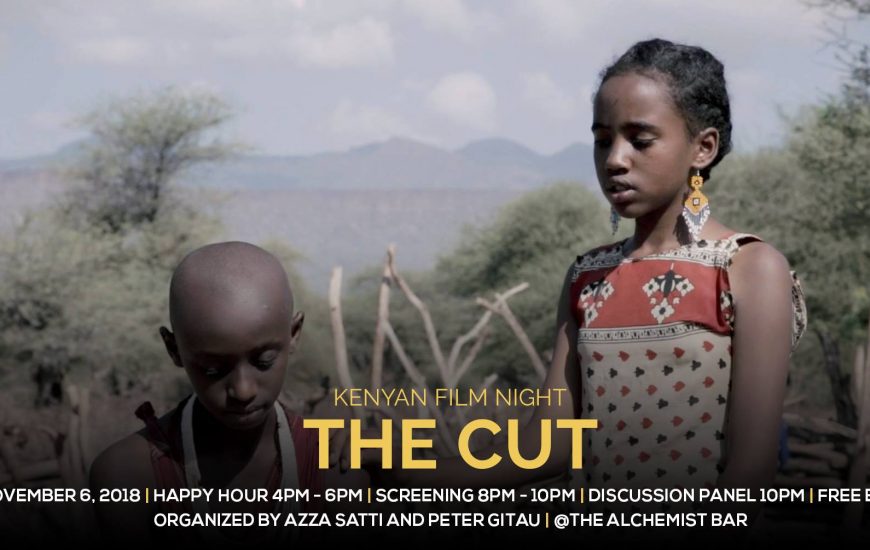 The Alchemist will be screening The Cut as part  of the Kenyan Film Series on November 6. The Cut is an award winning feature film by Peter Gitau.
Program
4PM – 8PM – Happy Hour
5:30PM-7PM Canon/The Bus Open Lab
8PM – 9PM – Movie Screening
9PM – Panel Discussion w/ Cast
About The Cut
———————————
Feature * 62 Minutes * Kenya
This is a story of two siblings (John and Jane) who have an unbreakable bond despite the challenges they face in their rural home. John's father want to marry off Jane at an early age so that he can enjoy her dowry but John is adamant to save his sister from his father's evil plan. John plans their escape to the big city but will he succeed?
Trailer
Director Biography
———————————
Peter Wangugi Gitau is an award winning filmmaker and has worked collaboratively and individually on a variety of socially engaged interdisciplinary projects for over eight years.
He has made theater productions, documentaries and fiction films touching on social economic issues in Uganda, Tanzania and Kenya .
Peter has worked with several Non Governmental Organizations on different film projects among them; Film-aid International, World Food Programme, Windle Trust Kenya, Population Services Kenya and AMREF Health Africa.
He has also directed award winning Kenyan TV shows Pendo & Prey n Pray among many others.
The Bus/Canon Open Lab
———————————
As part of The BUS and Canon Central & North Africa partnership project, The Nrb Bus will host open labs / product demo every Tuesdays 5:30-7pm at The Alchemist Bar